Russian President Vladimir Putin signed the deal in Athens today with the prime ministers of Greece and Bulgaria.
The planned 280-kilometer pipeline from the Bulgarian Black Sea port of Burgas to Alexandroupolis in Greece has been more than a decade in negotiations.
The pipeline will allow Russian oil shipments heading to the West to avoid traveling through Turkey's crowded Bosphorus Strait.
A consortium of state-controlled Russian energy companies, Transneft, Rosneft, and Gazprom, will hold a 51 percent
stake in the pipeline, while Greek and Bulgarian companies will split the remainder.
The pipeline, planned to cost some $900 million, is expected to initially carry 700,000 barrels of Russian oil per day to Greece, and have a potential capacity of 1 million barrels per day.
Putin said the pipeline would benefit the world economy by diversifying transport routes for Russian energy.
"The implementation of this project increases the stability not only of the Balkans but of the entire world energy market, without any doubt, for at least two reasons," he said. "First of all, it helps increase raw energy supplies to the world markets, and secondly, it diversifies the ways of delivering energy resources to the world markets."
(compiled from agency reports)
The Post-Soviet Petrostate
The Post-Soviet Petrostate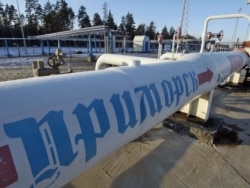 The oil-export terminal at Primorsk, Russia (TASS)


WEALTH AND POWER. At an RFE/RL briefing in Washington on January 24, Freedom House Director of Studies Christopher Walker and RFE/RL regional analyst Daniel Kimmage argued that energy-sector wealth is preventing many former Soviet countries -- Azerbaijan, Kazakhstan, Russia, and Turkmenistan -- from developing strong democratic institutions.
LISTEN
Listen to the entire briefing (about 90 minutes):

Real Audio
Windows Media
RELATED ARTICLES
Russia's Gazprom Looks Ahead To A New Year
Azerbaijan: Coping With The Oil Windfall
Azerbaijan Boom Sparks Fears Of Dutch Disease
Kazakh President Tells West -- We Don't Need Your Advice
Could Turkmen President's Death Lead Instability?