Russia: Pipeline Deal Raises Energy Dependence Concerns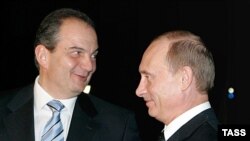 Greek Prime Minister Konstantinos Karamanlis (left) with Russian President Vladimir Putin in Athens (ITAR-TASS) MOSCOW, March 16, 2007 (RFE/RL) -- Russia, Greece, and Bulgaria have signed a long-awaited deal to build a trans-Balkan pipeline that will boost oil supplies to Western markets.
The pipeline will ship Russian oil from the Black Sea to the Mediterranean, avoiding the overcrowded Bosphorus Strait.
But there are fears the project will increase Europe's reliance on Russian energy supplies.
At a grand ceremony in Athens on March 15, Russian President Vladimir Putin hailed the construction of the pipeline as a step forward for the delivery of energy supplies to Western markets.
"The implementation of this project increases the stability not only of the Balkans but of the entire world energy market, without any doubt, for at least two reasons: first of all, it helps increase raw energy supplies to world markets, and secondly, it diversifies the ways of delivering energy resources to those markets," Putin said.
High Oil Prices
The deal has been a long time coming. For 15 years, the Russian side held off, considering the project not commercially viable.
But high oil prices helped speed up the agreement -- as did the inauguration in July of a potential rival, the Baku-Tbilisi-Ceyhan oil pipeline, which links the Caspian Sea to the Mediterranean while bypassing Russia.
The agreement means construction should be completed within the next four years, when 35 million tons of Russian oil will be pumped from the Bulgarian Black Sea port of Burgas to the Greek port of Alexandroupolis in the Aegean Sea.
Analysts say the advantage of the pipeline is that it avoids the heavily congested Bosphorus and Dardanelles straits which link the Black Sea to the Mediterranean. It is estimated that tanker delays in the straits cost oil companies up to $1 billion a year.
But the trans-Balkan deal has raised concerns that Europe is failing to break free of its dependence on Russian energy supplies, and that other non-Russian pipelines in the region could lose their share of the market.
Dependency Fear
The Russian president tried to allay those fears on March 15: "As far as the existing pipelines are concerned, [the new pipeline] does not make the situation worse for them. Because we're talking not about redirecting any of the flows from other systems, but about filling the pipeline we're going to build with new resources that are expected [to be produced] in Russia and other countries that transport their energy resources through our country."
Earlier this month, a senior U.S. State Department official, Matthew Bryza, commended the three signatories on the pipeline accord. He said the more oil that reached global markets, the better.
But he sounded a note of caution, adding that the United States was anxious that Europe could become too reliant on the state-owned Russian energy giants -- Gazprom and Rosneft.
That reliance was brought to the fore last year, when gas supplies to Western Europe were temporarily disrupted after a disagreement between Russia and Ukraine over energy prices. Western Europe receives up to 40 percent of its gas from Russia through transit pipelines that cross former Soviet states.
Russia turned off supplies, saying it wanted the Ukrainian side to pay market prices for energy supplies, which as a former Soviet republic it had been receiving at reduced rates.
But many saw the real reason for the argument as the Kremlin's desire to punish Ukraine for introducing pro-Western policies and turning its back on Moscow.
Political Elements
Another spat with Belarus this year saw oil supplies to Europe briefly disrupted.
The disputes were resolved, but the incidents sent jitters through Western markets.
Manuchehr Takin, an energy analyst at the Center for Global Energy Studies, said there is an element of politics to the deal.
"Russia would like to continue to influence its former allies, while these former allies want to become independent, some wanting to become members of NATO. And there is sensitivity among the Russians. There is an element of that. I don't think it's purely commercial," Takin said.
Approximately one-third of Western Europe's oil supplies come from Russia via the Black Sea.
It's a significant amount -- but not enough, in Takin's opinion, to justify fears that Western markets are overly dependent on Russian energy supplies.
"I think the commercial aspects of all these deals are more important than the political aspects. And this deal about the pipeline coming through Bulgaria and Greece is a very natural one, it is a logical one," Takin said. "They have been discussing it for 10, 15 years. So I think we should commend the more commercial deals that are made as such and not look at it purely as a political point."
The Russian companies Rosneft, Transneft, and Gazprom will share a 51-percent stake in the venture, leaving Greece and Bulgaria with 24.5 percent each. The pipeline project's estimated cost is $1.2 billion.
Prague Energy Forum, October 23-24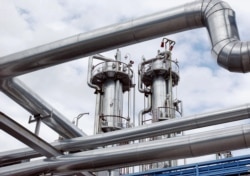 An oil refinery in Western Siberia (TASS)

STABILITY AND SECURITY: On October 23-24, RFE/RL and the Warsaw-based Economic forum cosponsored the Prague Energy Forum at RFE/RL's Prague broadcasting center. The Energy Forum brought together nearly 100 experts and policymakers from Europe, Central Asia, and the Middle East to discuss key issues of energy supply and security in the years to come.
HIGHLIGHTS: RFE/RL presents some of the key presentations from the Energy Forum and interviews with some participants:
Czech Premier Urges Reduced Energy Dependence On Russia
Interview: Nature A Bigger Threat To Security Than Terrorism
Russia Can Boost Security Through Transparency
Interview: Russian Expert Addresses Europe's Security Concerns
U.S. Official Outlines Concerns About Iran's Nuclear Program
Iranian, Western Experts Spar Over Tehran's Nuclear Ambitions
Experts Ponder Future 'Gas Wars'
Former U.S. Ambassador Says Kyiv Can Cope With Gas Price Rise
Interview: Tbilisi Bent On Energy Independence


MORE: Click on the image to see the conference program, participant list, and other materials.