The UN cultural organization and the Iraqi government signed a memorandum in Jordan for the reconstruction of the Al-Askari Mosque.
The UN Development Group Iraq Trust Fund is to provide $5.4 million and the Iraqi government will contribute $3 million to the project.
UNESCO said the reconstruction would start "as soon as security conditions are guaranteed" and would last ten months.
The Al-Askari, or Golden, Mosque shrine is one of the most revered sites of Shi'ite Islam.
Its minarets were blown up by suspected Sunni insurgents on June 13. In February 2006, a bomb attack destroyed its huge golden dome, sparking a wave of deadly sectarian violence.
Shi'ite Shrines In Samarra
Shi'ite Shrines In Samarra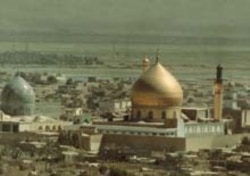 The Golden Mosque before the 22 February bombing (courtesy photo)

UNDER THE GOLDEN DOME: The Iraqi city of SAMARRA is the site of two major Shi'ite shrines. Consecrated in 852, the Golden Mosque is said to hold the remains of two Shi'ite imams: Ali al-Naqi and his son, Hasan al-Askari. A second shrine marks the place where the hidden -- or 12th -- imam, al-Mahdi, son of Hasan, went into hiding.
Imam Ali and Hasan were imprisoned in Samarra, the capital of the Abbasid Dynasty, by Al-Mutawakkil Ala Allah Jafar bin al-Mu'tasim (821-861), who is considered the last great Abassid caliph.
According to historical accounts, al-Mutawakkil felt threatened by the growing influence of Shi'ite Islam and Imam al-Naqi, who was based in Medina. Al-Mutawakkil thus brought Imam Ali and Hasan to Samarra in 848 and imprisoned them inside a military fort. Henceforth they became known as al-Askari (military) because of the location of their imprisonment.
Following al-Mutawakkil's death in 861, his successor had Imam Ali poisoned in 868. Hasan died in 874.
Imam Ali al-Naqi -- the 10th Shi'ite imam, commonly referred to as Imam Ali al-Hadi -- and his son, Hasan al-Askari, the 11th imam, are buried under the Golden Dome, which was a gift from Persian ruler Nasr al-Din Shah (1848-96). The dome's construction was completed in 1905. Also buried in the shrine are Hakimah Khatun, the sister of Imam Ali, and Nargis Kahtun, Imam al-Mahdi's mother.
The second shrine in the complex marks the place where Shi'a believe Imam al-Mahdi (b. 868), the 12th and final imam, went into hiding. According to Shi'ite tradition, Imam al-Mahdi, the son of Hasan al-Askari descended into a cellar under the present-day shrine and disappeared. Shi'a believe that he never died, and he will return on Judgment Day.
MORE: For more information on Shi'ite and Sunni sectarianism in Iraq, see:
Sunni-Shi'ite Tensions High On Eve Of Arab Conference
A Nation Finds Itself At A Crossroads
The Growing Sunni-Shi'a Divide