Miklos Haraszti, the Organization for Security and Cooperation in Europe's media freedom representative, called on Armenian lawmakers not to adopt the amendments, saying they were incompatible with OSCE commitments to media freedoms.
Under the draft amendments, Armenian broadcasters would have to pay a sharply increased fee for each aired program made by a foreign media organization.
The legislation would also ban Armenian Public Television and Radio (HHHR) from retransmitting programs of foreign broadcasters.
RFE/RL's Armenian Service primarily relies on HHHR's radio frequencies to air its daily news programs across Armenia.
Haraszti said that as Radio Free Europe/Radio Liberty is currently the only foreign media outlet using the HHHR frequency, the adoption of the amendments "would amount to a ban on their programs in Armenia."
In neighboring Azerbaijan, the national independent TV and radio channel, ANS, was barred from airing foreign broadcasts from the beginning of this year after authorities said it lacked the proper licenses.
ANS, previously an RFE/RL affiliate on FM, had also aired programs of the BBC and Voice of America.
The Erosion Of CIS Press Freedom
The Erosion Of CIS Press Freedom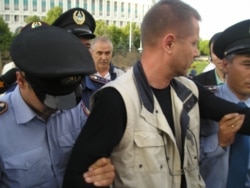 Prominent Kazakh journalist Sergei Duvanov being arrested in Almaty last month (RFE/RL)
FROM BAD TO WORSE. RFE/RL and Freedom House experts held a panel discussion at which they analyzed the erosion of press freedom in many CIS countries. According to Freedom House rankings, in 1994, six of the 12 CIS countries were rated "partly free"; by 2004, 11 of the 12 were rated "not free."
LISTEN
Listen to the entire briefing (about 70 minutes):

Real Audio
Windows Media
SUBSCRIBE
For regular news and analysis on media issues throughout RFE/RL's broadcast area by e-mail,
subscribe to "RFE/RL Media Matters."