Putin arrived at the seaside village in President Bush's personal helicopter, accompanied by the patriarch of the Bush family -- former President George Bush -- who met his plane at a nearby airport.
Looking relaxed and wearing a light blue shirt and dark jacket without a tie, Putin strolled with the elder Bush across a lawn to a waiting car that took them to the Bush family compound, known as Walkers Point.
Greeted By Protests
Putin's first glimpse of the dramatic, rocky Atlantic coast scenery likely included a view of more than 1,000 protesters who spent the day near the Bush home expressing their opposition to the war in Iraq.
RFE/RL correspondent Yury Zhigalkin, reporting from Kennebunkport, said the crowd sang protest songs and called for Bush's impeachment and for an end to the war.
Although they seemed more concerned with Iraq than with Russian-U.S. relations, Zhigalkin said, there were a few signs that read "Bush Out of Iraq, Putin Out of Chechnya."
The current President Bush was waiting outside to greet Putin -- the first foreign leader he has invited to his family's summer home.
Putin presented First Lady Laura Bush with a large bouquet of yellow flowers, and the two leaders posed for press photos.
Neither, however, made any statements, except for this parting quip from Bush: "Okay? It's been real. Thanks for coming!"
With that, the two leaders went inside for a traditional Maine lobster dinner that was aimed at launching the meeting on an informal, friendly note.
Hours before the summit began, Putin seemed keen on striking the same tone.
Speaking to Russian reporters before his departure for the United States, Putin said he wouldn't be going to the summit if he didn't believe he could have a positive dialogue with the U.S. president.
Muted Expectations
But both Washington and Moscow are warning not to expect any formal agreements at the end of the 24-hour period the two men and their top aides will spend together.
Experts tend to agree. Marshall Goldman, a professor emeritus of Russian economics at Wellesley College in the U.S. state of Massachusetts and author of an upcoming book on Putin's energy policy, told RFE/RL that the disagreements are too strong for that:
"I don't have high expectations, because I think the issues that now separate the two countries cannot be settled in two days, even if it's a nice, informal, warm two days between the two leaders," he said.
Putin has regularly criticized what he calls U.S. efforts to dominate the world, while Bush has denounced the state of democracy in Russia under Putin.
Russia sees a planned U.S. missile defense system in Poland and the Czech Republic as a particular threat. Washington, however, insists that the system is targeted at possible attacks from "rogue states" such as Iran.
Moscow and Washington are also at odds over the future of the Serb breakaway province of Kosovo. Putin opposes Western efforts to allow Kosovo to move toward independence from Serbia under United Nations supervision.
Russia and the United States have also failed to agree on how to approach Iran's nuclear program, with Washington favoring sanctions and Moscow refusing to take a harsh stance.
Bush Considers His Legacy
Such differences, Goldman said, present a challenge to Bush, who is looking ahead to his legacy as his second term in office nears its end.
"What I think Bush is trying to do is to make one last effort to show that indeed, he can deal with Putin and that indeed, he has not lost Russia," Goldman said. "I think that Bush recognizes that if he doesn't make this extra effort, that's indeed what people will say: 'Bush came in with Russian relations pretty good and left with Russian relations pretty bad. You, President George W. Bush, lost Russia.' I think he wants to avoid exactly that kind of criticism by doing this kind of thing. I think that's what motivates his efforts."
Anne Applebaum, a columnist for the "The Washington Post" newspaper and a regular commentator on Russia, agreed.
"You know the way Bush understands politics," she said. "He probably feels that at some point in the past, he had a good relationship with Mr. Putin on a personal level. And wants to try revive that in order to make things better between Russia and the United States. I mean, it's actually a fairly naive view of politics."
Following a second day of talks Monday, Putin is due to fly to the Central American state of Guatemala, where the International Olympic Committee will announce its decision on the host of the 2014 Olympics.
Russia's Black Sea resort of Sochi is one of three finalists.
(RFE/RL correspondents Irina Lagunina and Yuri Zhigalkin contributed to this report.)
The Russian Perspective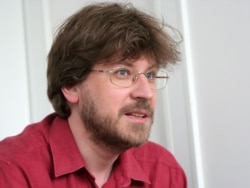 Fyodor Lukyanov (RFE/RL file photo)


'A SYMBOLIC RITUAL.' RFE/RL's Russian Service asked FYODOR LUKYANOV, the influential editor of "Russia In Global Affairs," to comment on the July 1-2 summit. Below are excerpts from that interview.
There is no reason to expect a radical turnabout because a radical turnabout in U.S.-Russian relations requires a profound rethinking of those relations and the emergence of some sort of strategic course. The problem is not in the personal relations between the two presidents or in the sum total of various factors of conflict. It is in the fact that since the Cold War no working models of interrelations have emerged. The relations that arose in the 1990s, for various reasons, didn't work. What we are seeing now are the consequences of the crisis of the 1990s model.
Serious work is required in order to develop solid, stable relations. And neither side is currently in a position to do this serious work with a long-term perspective.
[Bush] needs to save his foreign policy from total collapse. He has absolutely nothing to boast of. And if we add to the Iraq drama the final turn of relations with Russia into confrontation, then that will definitely complicate still more the position of the Republican Party and turn Bush into a foreign-policy monster. So, it seems to me, that he has a very short-term problem -- preventing a final collapse, preserving until Putin leaves the feeling that, "yes, we have many problems, but we are still partners; we are in dialogue, etc., etc."
This summit is, definitely, a symbolic ritual, all the more because it is taking place in a symbolic venue. This is the place where the father of the current president conducted serious negotiations concerning the end of the Cold War. Inviting Putin here, of course, is particularly symbolic. Both sides need to demonstrate that a process is going on. "Yes, we have complicated relations, but we are continuing to look for answers." And this is the state that should be maintained until the terms of both presidents come to an end.
ARCHIVE
To view an archive of RFE/RL's coverage of Russia,
click here
; to view an archive of RFE/RL's coverage of U.S.-Russian relations,
click here
.