Tehran Criticizes Blair's Middle East Appointment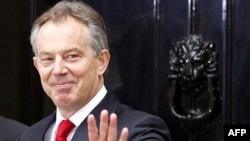 Tony Blair leaving Downing Street on June 27 (AFP) July 1, 2007 -- Iran today criticized the appointment of former British Prime Minister Tony Blair as a Middle East peace envoy.
Foreign Ministry spokesman Mohammad Ali Hosseini said Blair, who stepped down on June 27 after 10 years as premier, did not have a good background or reputation in the region.
Blair was appointed to the post by the United States, the European Union, Russia, and the United Nations, who make up the Quartet of Mideast peace brokers.
Hosseini said Iran welcomed the appointment of Blair's successor as British prime minister, Gordon Brown.
(Reuters)