Alleged Killers Of Turkish-Armenian Journalist In Court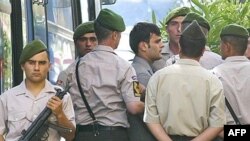 Police in Istanbul escort the suspects into court today (AFP) July 2, 2007 -- The trial of 18 people charged in connection with the killing of Turkish-Armenian journalist Hrant Dink has started in Istanbul.
Dink was killed outside his Istanbul office on January 19. A 17-year-old Turk, Ogun Samast, confessed to the killing.
The trial of Samast and 17 other suspects got under way behind closed doors amid tight security. The others face a variety of charges including incitement to murder and forming a terrorist organization.
At least 1,000 protesters gathered outside the courtroom demanding justice.
Dink had angered Turkish nationalists by saying that Turkey to accept responsibility for the mass killings of Armenians in 1915-18.
His murder shocked Turks and raised questions about freedom of speech in Turkey, which is hoping to join the European Union.
(AP, Reuters)