But the president has also published his biography and held a gala birthday celebration complete with the minting of gold coins graced with his portrait.
While some observers have welcomed signs of change in Central Asia's most isolated country, critics fear the development of a personality cult similar to the one by the man that Berdymukhammedov replaced, Saparmurat "Turkmenbashi" Niyazov.
Better To Give And Receive
Berdymukhammedov celebrated his 50th birthday on June 29 by awarding himself the Watan (Motherland) Order -- a gold and diamond pendant weighing about 1 kilogram. As a part of the award, the president was also paid a bonus of $20,000 and received a 30 percent increase in his salary and pension.
"I think we can see a greater level of engagement from Turkmenistan in the international world, but again I think it is going to be limited..."
MORE: An interview about Turkmenistan with noted American novelist and travel writer Paul Theroux.
The Watan Order, which can be awarded to the Turkmen president only once, was given to Berdymukhammedov to honor his "outstanding achievements" -- after only six months in office.
During that half a year he also managed to have his biography published. And to help commemorate his birthday, the government issued 400 gold and silver coins decorated with the president's portrait.
Russian and Western news agencies criticized Berdymukhammedov's lavish birthday honor as a continuation of the presidential cult of personality in Turkmenistan established by Niyazov, also known as "Turkmenbashi," or the "father of all Turkmen."
Hope For Change
However, some analysts say it could be a one-off celebration and that Berdymukhammedov will actually move away from Niyazov's excesses.
Berdymukhammedov was named acting president in late December after Niyazov's death. In February, he was elected to president in what has been called an unfair election that fell short of international standards.
Few people expected major changes in Turkmenistan's domestic and foreign policies, since Berdymukhammedov made it clear from the beginning of his rule that he would continue his predecessor's policies.
However, he did promise some reforms, including social reforms, and to some extent he started to open up the isolated country to the world.
Berdymukhammedov's electoral platform included a revision of the country's social-security law. Niyazov had cut off some 100,000 pensioners' retirement benefits and substantially decreasing many others' social payments.
Restoring Pension Payments
Under the new social-security law -- which came into effect on July 1 -- the suspended pensions were reinstated.
Berdymukhammedov has also reopened the Academy of Sciences, which was described by Niyazov as a "useless institution" and closed down.
Niyazov's numerous portraits decorating walls and billboards around the country -- and turning Turkmen cities into a kind of personal photo-album -- are now being taken down. Some of them, however, are being replaced by the new president's portrait.
The new president has made some changes to Turkmenistan's power circles by removing some of the key "behind-the-scenes" political figures.
The influential Akmurad Rejepov, the former head of the presidential guard, was fired and then arrested in May.
'Equal Relationships'
However, it is the foreign policy of the energy-rich country that attracts more attention abroad -- especially among those who want to import Turkmen gas.
Speaking at the ceremony in the capital, Ashgabat, marking his 50th birthday, Berdymukhammedov said that Turkmenistan maintains its "neutral status" and has "equal relationships" with all.
"Without joining any kind of political alliances, we will carry on with our efforts to build new gas pipelines to carry our gas to China, and to Pakistan and India via Afghanistan, and to Europe via the Caspian Sea," he said. "This means that we will have equal and mutually beneficial relations with Russia and the United States, with European countries, and with our neighbors as well."
Most recently Chevron, a U.S.-based energy company, announced its intention to open an office in Turkmenistan and participate in the development of Caspian Sea energy resources.
Matthew Clements is the Eurasia editor in the Country Risk Department for Jane's Information Group in Britain.
Clements says Turkmenistan's engagement with the international community will continue to be limited, and Berdymukhammedov will not want great foreign interference -- especially by Western, democratic countries -- in the country.
"I think we can see a greater level of engagement from Turkmenistan in the international world, but again I think it is going to be limited to what Turkmenistan wants to be dealing with," he said. "And I would not expect a livening of relations with the West unless it is going to involve energy deals."
Berdymukhammedov's reforms have thus far not touched on the dire situation of human rights and civil liberties in Turkmenistan, which have been sharply criticized by international observers for most of Niyazov's reign as president, which began in 1991.
Similarly, they have done little to improve the living standards of Turkmen people. Despite vast gas resources, most of the population lives in poverty.
For instance, Berdymukhammedov's latest action to reinstate pensions and other social payments looks good on paper. But the minimum pension in Turkmenistan is only around $25 a month.
(RFE/RL Turkmen Service correspondent Guvanch Geraev contributed to this report.)
Saparmurat Niyazov, 1940-2006
Saparmurat Niyazov, 1940-2006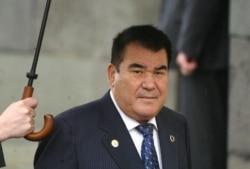 Turkment President Saparmurat Niyazov (bymedia.net)

ERA OF UNCERTAINTY. The death of Turkmen President Saparmurat Niyazov ends an era and begins a period of great uncertainty in Turkmenistan....(more)
RELATED ARTICLES
Could Niyazov's Death Lead To Political Struggle, Instability?
President's Death Brings Muted World Reaction
Energy Analyst Discusses Impact Of Niyazov's Death
Niyazov's Death Prompts Integration Hopes, Gas Worries In Russia
ARCHIVE
RFE/RL's coverage of
Turkmenistan
.