Turkmen President Awards Himself Lavish Gifts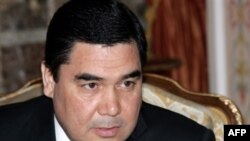 Turkmen President Gurbanguly Berdymukhammedov (file photo) (AFP) June 30, 2007 -- Turkmenistan's president has awarded himself a large gold and diamond pendant to celebrate his 50th birthday.
State media also reports that Gurbanguly Berdymukhammedov received $20,000 and a 30 percent salary and pension increase.
The government has also issued 200 gold and 200 silver commemorative coins decorated with Berdymukhammedov's portrait.
The awards echoed those received by his late predecessor, Saparmurat Niyazov, who cultivated a vast personality cult.
(AP)