"She [Muradova] had been reporting for the Turkmen Service since March of 2006. And her reports covered mainly the social issues of Turkmenistan. In June she was jailed [on charges of illegally possessing ammunition] and later in September she died in custody after the imprisonment, she died in prison.
"Family members, when they saw the body, they saw the signs of torture, and that's why they demanded a thorough investigation of the body, but still they failed to get an investigation. Until now we don't have any official reports from the Turkmen authorities about the reason of her death.
'We have not had any information about two correspondents in eastern Turkmenistan for over three weeks'
Reporters Still Harassed
"After the death of President [Saparmurat] Niyazov there were some expectations of more freedom and now time shows that still the previous regime continues and correspondents, not only for Radio Free Europe, but other correspondents are under strict surveillance by the Turkmen authorities.
Gurbanguly Berdymukhammedov (left) succeeded Saparmurat Niyazov in February (epa)"We [have not had] any information about two correspondents in the eastern part of Turkmenistan for over three weeks. Our Ashgabat correspondent is facing harassment by the authorities these days. These latest incidents show that the harassment continues and we're concerned about the situation in Turkmenistan.
Ability To Report Curtailed
"They are invited for questioning, and they question the family members of the correspondents, and threaten not to contact the correspondents of RFE/RL, things like that. It's very difficult [for us] to report from Turkmenistan.
"But despite all the difficulties, our correspondents do their best to tell the truth to the international community about the situation in Turkmenistan."
Press Under Assault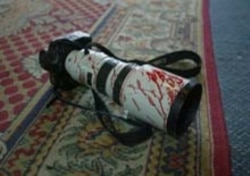 (AFP)
BREAKING THE NEWS: Press freedom is under assault in virtually all of the countries of the former Soviet Union. Independent media confront enormous challenges in providing citizens with the independent information that can help advance democratic reforms. On May 2, RFE/RL's Washington office hosted a roundtable briefing that gave an overview of media developments in the CIS and discussed the connections between press freedom and future democratization. The briefing featured Freedom House Director of Studies CHRISTOPHER WALKER, American University Associate Research Professor ROBERT ORTTUNG, and RFE/RL Central Asia analyst DANIEL KIMMAGE.
LISTEN
Listen to the entire briefing (about 90 minutes):
Real Audio Windows Media
RFE/RL's Press Freedom Day stories:
Iraq: Covering The Most Dangerous Beat On Earth
Afghanistan: Women In Journalism Battle Restrictions, Threats
Iran: State Maintains Tight Control Over Information
CIS: Press Freedom In Former Soviet Union Under Assault
Central Asia: Bureaucratic Obstacles Hinder Journalists
Central Asia: Governments Wary Of Independent Media
Central Asia: Journalists Still Face Harassment, Threats

THE COMPLETE STORY: To view an archive of RFE/RL's coverage of media-related stories, click here.
SUBSCRIBE
For regular news and analysis on media issues throughout RFE/RL's broadcast area by e-mail,
subscribe to "RFE/RL Media Matters."