"Millions of citizens of Russia are united by the Olympic dream," Putin said, addressing the International Olympic Committee in fluent English. "Winter sports are very popular in Russia. Our athletes have scored many victories and have made major contributions to the Olympic movement, but we have not yet had the honor to celebrate the Winter Olympics. Our national pledge to you is that the choice of Sochi is the best choice."
Listen to Putin's remarks:

Real Audio
Windows Media
Many agree that it was Putin's polished performance in Guatemala -- including his English-language presentation, peppered with French and Spanish -- that did the trick.
For many Russians who spent the night partying away, the Sochi victory was something to be savored.
Sochi defeated South Korea's Pyeongchang in a second round of voting by IOC members, after the Austrian city of Salzburg was eliminated in the first ballot.
"The International Olympic Committee has the honor of announcing that the 22nd Olympic Winter Games in 2014 are awarded to the city of Sochi," International Olympic Committee President Jacques Rogge said, making the official announcement.
Listen to Rogge's announcement:

Real Audio
Windows Media
The Best Captain
Russian Sports Minister and two-time Olympic ice hockey champion Vyacheslav Fetisov said he had played under "many fine captains" over the years. But Putin, he said, was "the best" and he credited the Russian president for Sochi's triumph.
Sports journalist Duncan Mackay, who covers the Olympics for Britain's "Guardian" newspaper, agrees that Putin's contribution may have been decisive, comparing it to former British Prime Minister Tony Blair's key role in getting London the 2012 Summer Olympics.
"It certainly was a huge factor," Mackay said. "The IOC members are very impressed by world leaders, as we saw with Tony Blair in Singapore two years ago. And I think what Sochi has done is to use that very much as a blueprint for how to lobby the IOC. So what they've tended to do is they've lobbied very hard leading up to the vote and then they've brought Putin in to add to the coup de grace, so to speak."
The Russian president gets so much credit because Sochi's win was far from assured. In terms of current sports facilities and other technical merits, Sochi lagged far behind its Austrian and South Korean rivals. The Krasnaya Polyana ski resort, where the Olympics will be held, currently boasts just one ski lift.
An $11 Billion Offer
But Russia is synonymous with heroic projects. And the Kremlin promised to go all out if it won the bid -- to turn the area into one a vast, state-of-the-art winter ski paradise, just a stone's throw from the shimmering shores of the Black Sea.
And the IOC, says Mackay, was seduced by the boldness of the vision and the $11 billion Russia has already approved to turn that dream into a reality.
He contrasts the Sochi bid with the competent but staid offer made by the Austrian side -- veterans of many past winter sports competitions.
"I think what Salzburg lost out on is that it was seen as a 'safe pair of hands,'" Mackay said. "It wasn't offering anything that imaginative, it would have been a Winter Games the likes of which we've seen before. Innsbruck held the Winter Games as recently as 1976, which in IOC terms is the blink of an eye. [It's] rather like the Paris bid for the 2012 [Summer Olympics, which] was seen as being a good, safe, sound bet but not that exciting, whereas London's bid was exciting and fresh -- I think that's what's happened here. The Sochi bid was fresh and exciting, and it was offering the IOC a huge opportunity to do things they hadn't done before and to redevelop a large part of a country, which they like."
Much work now lies ahead. But for many Russians who spent the night partying away, the Sochi victory was something to be savored.
And feelings of patriotism gripped many -- from the thousands of people cheering in Sochi's main square to Russian Economic Development and Trade Minister German Gref in Guatemala -- who gushed with pride as the Russian national anthem blared in the background.
"All participants in the vote have already understood," he said, "that Russia has triumphed!"
Listen to Gref (in Russian):

Real Audio
Windows Media
Celebrations are likely to continue for many hours and days ahead. Soon, however, words will have to give way to deeds as the Olympic clock ticks down to 2014.
The Pride Of Russia
CELEBRATING THE VICTORY: Russians woke up on July 5 to hear the news that their Black Sea resort town of Sochi had been chosen to host the 2014 Winter Olympics, beating Salzburg in Austria and Pyeongchang in South Korea. Muscovites told RFE/RL's Chloe Arnold how delighted they were at the decision.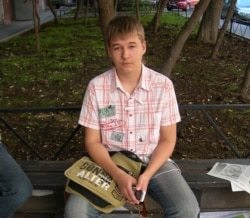 Dima, a Moscow student:
"It's really good for us. They chose Russia, so that's great. It's better that the games are held somewhere in Russia. Actually, I think it would be better to split this money in half."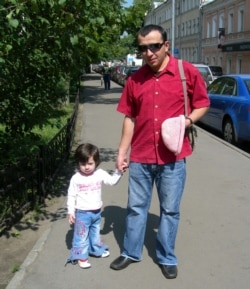 Elgucha, 33, driver, pictured with his 2-year-old daughter, Katya:
"Sochi won? I didn't know! Really, I didn't expect it. I didn't know the result -- I've only found out from you, and I'm happy. I think maybe they'll deliver the money -- I think since they've promised to, they'll have to deliver it."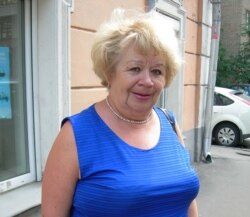 Lyudmila Valentinovna, 69, annotator at the House of Composers:
"What do you think? That they should have eliminated us?! There's currently nowhere for our atheletes to train, no proper mountains. But for me it wasn't a surprise. We'd been hoping we'd win. But, of course, no one really thought it could turn out like this."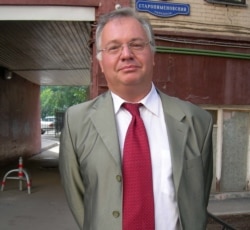 Sergei, 59, technical director:
"It's good -- let [Sochi] hold the games! Actually, a friend of mine said they'd never give the games to Sochi. But he was wrong. So for me it was a surprise; it was truly amazing."