Olympic Inspectors Tour Sochi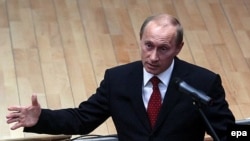 Russian President Putin speaking to the IOC delegation in Sochi today (epa) February 20, 2007 (RFE/RL) -- An International Olympic Committee inspection team has toured Sochi to evaluate the city's bid to host the 2014 Winter Olympics.
The inspectors met local and federal officials and are due to meet President Vladimir Putin.
Russia -- which has never hosted the Winter Games -- has committed nearly $12 billion to upgrade the area's infrastructure.
But Greenpeace and the World Wildlife Fund oppose plans to build ski slopes and sports complexes in the Sochi National Park and Caucasus Nature Reserve.
The government and environmental groups have agreed to form a board of ecologists to oversee development plans.
Economic Development and Trade Minister German Gref pledged that Russia will make ecological concerns a priority.
Sochi is competing against Salzburg, Austria, and Pyeongchang, South Korea, to host the games.
The IOC is scheduled to select the host city on July 4.
(with material from agency reports)