Troops Kill Rebel Pakistan Cleric During Assault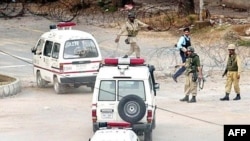 Paklistani security forces near the Red Mosque today (AFP) July 10, 2007 -- Pakistani security forces say they have killed radical Muslim cleric Abdul Rashid Ghazi --> http://www.rferl.org/featuresarticle/2007/07/00114554-9cc5-488a-b1c1-1e9c1b41e309.html during an operation to flush out militants holed up in the Lal Masjid, or Red Mosque, in Islamabad.
Security forces launched an assault on the Red Mosque complex early today after talks broke down to end a weeklong standoff with militants barricaded inside the mosque with hostages.
Interior Ministry spokesman Javeed Cheema said Ghazi, who was the leader of the radical militants, was killed as troops were flushing out the remaining pockets of resistance in the basement of the mosque.
At least 50 militants and eight security personnel were killed in the assault. The military said at least 80 hostages, children and women, have managed to get out of the complex.
(Reuters, AFP, AP)