His statements were the latest in a series of increasingly aggressive comments coming out of Turkey, warning the U.S. and the Iraqi government that if they do not curb PKK activities in northern Iraq, Turkey will have no choice but to carry out unilateral military action.

Iraqi Kurdish officials have reacted to the Turkish warnings and the massing of Turkish forces along the border with increasing alarm.
A Turkish incursion based on the principle of fighting terrorism sets a dangerous precedent for Iraq's neighbors. Iran, Syria, and Saudi Arabia, who are widely believed to be involved in Iraq behind the scenes, may be emboldened to follow suit.
Iraq's Kurdish Foreign Minister Hoshyar Zebari issued a statement on July 9 expressing his deep concern over intelligence estimates of more than 140,000 Turkish troops currently stationed on the border. He urged restraint and called for a diplomatic solution to the tensions.

The Pentagon disputed the numbers cited by Zebari, while Turkey had no comment. Zebari may have exaggerated intentionally, to focus greater international media attention on the Turkish threats in the hope of forcing Turkey to back down. In any case, it shows that he takes the Turkish threats seriously.

Setting Dangerous Precedent

The possibility of a Turkish military operation in northern Iraq has created concerns among the Kurdish leadership that it may lead to clashes between Turkish forces and the Kurdish peshmerga militia. This could then mushroom into a wider regional conflict.

"An incursion into Iraqi Kurdistan will not be a picnic...if the incursion is into areas inside Iraqi Kurdistan -- into the cities and towns -- then there will definitely be clashes between the peshmerga forces and the Turkish Army, and this is something we do not wish for at all," Iraqi President Jalal Talabani told Al-Arabiyah satellite television on July 6.

Talabani's warning underscores the dilemma Turkey faces in a major cross-border operation into northern Iraq. If Turkish forces do enter Iraq and engage PKK fighters, it unclear how long they will remain, and it may take a significant amount of time to drive the PKK forces out of their mountain strongholds.

Consequently, the longer Turkish forces remain inside Iraq, the greater the chances that they will clash with the peshmerga, who would see any incursion as a violation of their territory. Indeed, after being oppressed for decades under the former regime of Saddam Hussein, the Kurds do not take their newfound semi-autonomy for granted. Fighting in Iraqi Kurdistan would also open an additional military front that U.S. and Iraqi forces are ill-equipped to deal with at this time.

In addition, a Turkish incursion based on the principle of fighting terrorism sets a dangerous precedent for Iraq's neighbors. Iran, Syria, and Saudi Arabia, who are widely believed to be involved in Iraq behind the scenes, may be emboldened to follow suit. Once Turkey opens the proverbial Pandora's box by conducting cross-border operations into Iraq, Iraq's other neighbors may well argue that they are entitled to do the same in the name of national security.

Drawn Deeper Into Iraq


The opening of a new military front in the north would undoubtedly destabilize a region that has been a zone of relative peace in Iraq. Not only would Turkish forces face the danger of being sucked into Iraq's numerous and violent conflicts, it would also provide Al-Qaeda in Iraq with an opportunity to gain a stronger foothold in the region by stoking the considerable ethnic and sectarian tensions between the Kurds, Turkomans, and Arabs.
Further attacks by Al-Qaeda against the Iraqi Turkoman population, similar to the July 7 bombing in the northern town of Tuz Khurmato, may draw Turkish forces deeper into the conflict as they face pressure to protect their ethnic brethren.
Armed confrontations may result between all the parties involved, with Al-Qaeda carrying out attacks aimed at perpetuating a similar cycle of violence that engulfed Baghdad and the surrounding areas for a year and a half. Turkey could be drawn ever deeper into in Iraq's internal conflicts, and find it ever more difficult to extricate itself.
While Turkey may believe that a military incursion into northern Iraq will improve its national security, the resulting fallout may actually end up not only making Turkey less secure, but destabilizing the entire region as well.
Searching For A Way Forward
Searching For A Way Forward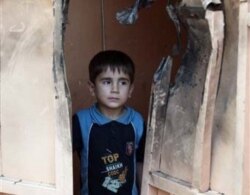 A boy looks out from his Baghdad home (AFP)
LOOKING BEYOND AL-MALIKI: RFE/RL Iraq analyst Kathleen Ridolfo led an RFE/RL briefing about the changing political landscape in Iraq, focusing on efforts to gain the upper hand in the event that the government of Prime Minister Nuri al-Maliki falls.
LISTEN
Listen to the entire briefing (about 70 minutes):

Real Audio
Windows Media
RELATED ARTICLES
Opposition Appears Set On Bringing Down Al-Maliki
Former Premier Pushing New Plan For Reconciliation
Al-Sadr Prepares For Post-Coalition Era
Sunni Ultimatum Rocks Al-Maliki's Position


THE COMPLETE STORY: RFE/RL's complete coverage of events in Iraq and that country's ongoing transition.