The resolution was adopted unanimously.
Deputy Marios Matsakis who presented a report titled "Human Rights Violations In Transdniester" before the European Parliament in Strasbourg, said a rapid settlement of the dispute between Moldova and Transdniester is needed.
"We strongly condemn the repression, harassment, and persecution of citizens and NGOs currently taking place in Transdniester, which is the work of the totalitarian Transdienistrian regime," Matsakis said. "And we call for a rapid settlement of the 'frozen conflict' in that region, pointing out, adamantly, that the territorial integrity of Moldova must never be put in doubt and that the regime in Tiraspol is illegal and unrecognized, and so it will remain in our eyes and in our decisions."
The nonbinding resolution also says the European Union must become a full participant in the now stalled conflict resolution effort currently involving Transdniester, Moldova, Russia, Ukraine, and the Organization for Security and Cooperation in Europe (OSCE).
The Transdniester Conflict
The Transdniester Conflict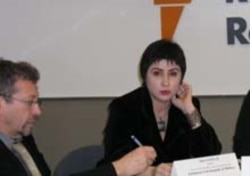 Stela Jantuan, head of the Information, Analysis, and Prognosis Service of the Moldovan parliament (RFE/RL)

FROZEN CONFLICT: On January 11, 2006, RFE/RL's Washington office hosted a panel discussion on prospects for settling the Transdniester conflict. The roundtable featured STEFAN GLIGOR and STELA JANTUAN of the Information, Analysis, and Prognosis Service of the Moldovan parliament and ALEXANDRU FLENCHA, head of the information and analysis division of Moldova's Ministry of Reintegration.
LISTEN
Listen to the complete panel discussion (about 90 minutes):

Real Audio
Windows Media
TALKS CONTINUE. The conflict between the Republic of Moldova and the unrecognized, separatist Transdniester Republic has festered for more than 15 years. A decade of talks supervised by the OSCE, Russia, and Ukraine have stagnated, while allegations mount concerning the involvement of Transdniester separatists in money-laundering and trafficking in arms, drugs, and human beings. What are the current prospects for settling this frozen conflict? (more)
ARCHIVE
An archive of RFE/RL's coverage of Transdniester.