Damir Zainullin, a 23-year-old ethnic Tatar, was stabbed to death while on his way to work on July 1. He had graduated from St. Petersburg's Agricultural University the day before the attack, which took place in close proximity to a police station.
Prosecutors in St. Petersburg announced today that the murder was committed by what they described as an "informal group." Also today, Russian news agencies reported a young woman has been detained in connection with the attack.
In interviews today with RFE/RL's Tatar-Bashkir Service, members of Zainullin's family said the attackers ripped open his stomach and cut his arteries with broken bottles. A lawyer for the family says that video from surveillance cameras near the attack showed 17 people, including a young woman, assaulting him.
Police had initially said the murder was an ordinary street crime. But Tatar community groups have insisted that the evidence shows that the crime was racially motivated.
Damir Iskhakov, a sociologist at the Kazan Institute of History, told the Tatar-Bashkir Service that Zainullin's murder is a yet another disturbing signal that violent nationalist groups are becoming more active in Russia.
"This [killing] is a very dangerous symptom for Tatars because Tatars are indigenous to St. Petersburg. They have remained in that land as they participated in the very foundation of the city," Iskhakov said.
"That is an attack on Muslims," he added. "This is also a very dangerous thing for Russia because at least one-fifth of the population [in the Russian Federation] are Muslims. So, if the attacks have started against Tatars, this means that local fascists are attacking all the Muslims."
Rising Russian Nationalism
Rising Russian Nationalism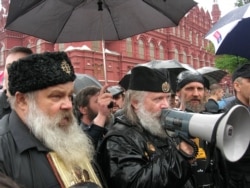 Orthodox believers and nationalists heckling a gay-rights rally in Moscow in May 2006 (RFE/RL)
A THREAT TO CIVIL, RELIGIOUS LIBERTIES: Several leading experts told a briefing hosted by RFE/RL and the U.S. Commission on International Religious Freedom that several mounting trends in Russia are posing a growing threat to human rights, especially for members of the country's ethnic and religious minorities.
LISTEN
Listen to the entire briefing (about 90 minutes):

Real Audio
Windows Media
RELATED ARTICLES
Why Putin Is Going To The Vatican
Bishop Assails Russian Orthodox Church

A thematic webpage devoted to issues of religious tolerance in RFE/RL's broadcast region and around the globe.