As the oil and gas markets become tighter in the future, the Kremlin is banking on the possibility that LNG could be both a lucrative business and a useful tool in political leverage.
According to an April report by PricewaterhouseCoopers, LNG will account for one-third of all gas trade in 2010 and 62 percent by 2020.
Sales for LNG infrastructure items such as regasification terminals and seaborne carriers are booming as the uncertainty surrounding the world's oil industry continues to spread and crude prices edge upwards towards $80 a barrel.
A Russian LNG carrier fleet is slowly being assembled by the Sovcomflot shipping company, whose CEO is Igor Shuvalov, one of Russian President Vladimir Putin's closest advisers. Presently the company, in partnership with Japan's NYK Line, has four LNG carriers on order, two with South Korea's Daewoo group and two with Japan's Mitsubishi. In January 2007, Sovcomflot took delivery of two LNG carriers built by South Korea's Hyundai.
A total of five LNG carriers are slated to handle LNG deliveries from the Sakhalin-2 oil and gas project in the Russian Far East. This is a relatively small number, considering that 45 vessels are currently under construction in various countries to carry LNG from Qatar to the United States.
A recent report from the international energy watchdog, the International Energy Agency, predicted that "oil looks extremely tight in five years time" and there are "prospects of even tighter natural gas markets at the turn of the decade."
No Pipelines Required
LNG, unlike vaporous natural gas, is not reliant on pipelines to reach consumers. Like oil, it can be carried by ships in its liquid state to any corner of the globe where facilities exist to unload it, store it, and restore it to its previous gaseous state.
In the past, Russia has been accused of playing "energy politics" and using natural gas as a weapon in its dealings with its neighbors.
Specialists say Russia is lagging far behind other gas-producing countries when it comes to LNG production and shipping.
The Kremlin's LNG ambitions might also harbor political goals. By having the capability to ship large quantities of LNG to the United States, Canada, and Asian countries, Russia could enhance its leverage over these countries.
In 2006, Russia's state-controlled gas company Gazprom announced that it had ambitions to become a leading LNG supplier to the enormous U.S. market. Gazprom announced it was eager to claim more than 10 percent of this market by 2010 and then increase its share up to 20 percent. The company also signaled its interest in downstream assets, such as transport and regasification terminals, in the United States.
It's unclear, however, where Gazprom intends to send the LNG -- to the United States or elsewhere.
Shtokman Field
Gazprom is promoting the development of the giant Shtokman gas field (with reserves of 3.7 trillion cubic meters of gas) in the Barents Sea. Under an early plan, LNG from Shtokman was to be shipped to the United States, while gas from the field would go via the projected Nord Stream pipeline underneath the Baltic Sea to Germany. Foreign companies were asked to participate in a tender to build the project.
However, in October 2006, Gazprom sent shockwaves through European and U.S. energy markets by announcing that the company will develop the $20 billion Shtokman field without the participation of foreign partners.
Adding to the disenchantment was a statement by Gazprom that most of the LNG from Shtokman will not be shipped to the United States as originally planned, but sold on European markets.
Some analysts attributed the cancellation of future sales to the United States as Russian payback for critical comments about Russia by U.S. officials. Gazprom, however, has never explained the reason for this decision.
The decision was hailed as good news for Europe by Burckhard Bergmann, the boss of Germany's largest gas firm, E.ON Ruhrgas. Bergmann is also a member of the Gazprom board.
But a recent volte-face suggests that Gazprom needs foreign companies to help develop the field.
At the beginning of July, Gazprom's deputy CEO Aleksandr Medvedev announced that foreign companies would be allowed to participate in developing Shtokman.
Medvedev said Gazprom would "allow foreign partners to share in the economic benefits of the project, share the management, and take on a share of the industrial, commercial, and financial risks."
Gazprom announced on July 12 that it had chosen France's Total to be a partner in Shtokman, mainly because of the company's vast experience in LNG.
Gazprom has said it hopes to have the field operational by 2013, producing 71-94 billion cubic meters per year. Medvedev said Gazprom hoped to begin shipments of LNG from the field by 2014, a date considered by some to be optimistic.
The main factor behind the reversal on foreign companies developing the field was probably the need for technical expertise to develop Shtokman -- expertise which Gazprom does not possess.
Technical Lag
Specialists say Russia is lagging far behind other gas-producing countries when it comes to LNG production and shipping.
With that in mind, is Russia truly positioned to become a major LNG exporter to Asian and North American markets in the near future?
The Standard & Poor's ratings agency noted in a June 2006 study of the Russian LNG industry that a potential challenge could be Russia's own enormous demand for gas. Standard & Poor's noted that by invoking "force majeure" clauses, Russia could divert gas intended for LNG export to local markets during peak usage periods.
"Political risk, opaque legal and business systems, and Russia's short history of contract law and enforcement will distinguish its LNG projects from recent LNG project financing in Qatar, Oman, and Trinidad and Tobago," the Standard & Poor's report stated.
And a commentary on the future of the LNG market in "Platt's Power in Asia" noted: "One thing seems certain: competition for LNG is set to increase, as North America and Western Europe emerge as increasingly voracious markets."
For Putin and his successor, the possibility that Russia's former enemies might be competing against each other for its prized resource could well be comforting - and, more than likely, food for thought.
Russia And Global Energy Security
Russia And Global Energy Security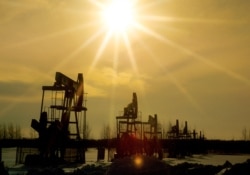 An oil field in Russia's Republic of Bashkortostan (TASS file photo)


ENERGY SECURITY is increasingly moving to the top of the EU's agenda in its dealings the outside world. A recent report identifies the European Union's main energy objectives as not just securing gas and oil deliveries from Russia, but also ensuring that it has reliable alternative sources, including in Central Asia. Nonetheless, EU officials say relations with Russia take center-stage in their thinking....(more)
RELATED ARTICLES
EU Maintains Codependent Energy Relationship With Russia
Turkmenistan: The Achilles' Heel Of European Energy Security
U.S. Official Urges Reforms In Energy-Producing Countries
ARCHIVE
A
complete archive
of RFE/RL's coverage of energy issues in the Caspian Sea region and Russia.