That was the general consensus of top international experts assembled at the Global Energy Leaders Summit organized this week in London by the "Financial Times" newspaper.

EU Energy Commissioner Andris Piebalgs told RFE/RL that there is no reason to doubt Russia's dependability as a supplier, as it is in the country's financial interests to deliver on its promises. However, he stressed that Russia can be expected to do what is good for Russia.

Hedging Bets
"I think we should be positive," Piebalgs said. "At the same time, I think we should always know that Russia will follow its own interests. So, whatever they will supply to the market will be according to Russian state strategies, and it will not always be according to our strategies."

Because of this, Piebalgs explains, the European Union should seek alternative sources of oil to offset any "unpredictable developments." This approach can provide the EU with the advantage of knowing that "not all the eggs have been put just in one basket."
"I think that safe energies security policy means more diversity and that's true for everybody," Mandil said. "That's true for Europe, that's true for other countries, that's true for Russia, too." -- IEA Executive Director Mandil
Claude Mandil, executive director of the International Energy Agency (IEA), told RFE/RL that diversification is a good course of action for energy importers and exporters alike.

"I think that safe energies security policy means more diversity and that's true for everybody," Mandil said. "That's true for Europe, that's true for other countries, that's true for Russia, too, which needs perhaps to have more clients than only in Europe."

Mandil notes the opportunity Russia has to export energy to its east and south, positioning itself as a key supplier to China and India while lessening its dependence on the European market.

As far as Europe is concerned, Mandil says the International Energy Agency would like to see Moscow invest more in infrastructure and has expressed its concerns to Moscow. The fear is that as pipelines become obsolete or inoperable as they age, they could hinder Russia's ability to meet its contractual obligations to Europe.

Alternative Challenges
EU Energy Commissioner Piebalgs points out that one of the challenges Europe faces in diversifying its energy supplies is that the amount of energy currently provided by alternative sources is insufficient.

For example, while the EU receives some 150 billion cubic meters of natural gas from Russia it gets just 40 billion cubic meters of gas via Turkey -- an amount that falls far short of Europe's needs.

"I think it is important really to develop this Trans-Caspian line, [and] we will get this year [for the] first time gas from Azerbaijan," Piebalgs said. "Definitely, our hopes are that we could resolve the uranium-enrichment issue with Iran, because Iran has huge potential supply, and also Iraq would supply us with gas. At the same time we should develop a lot of LNG [liquefied natural gas]. So, on gas, I think it will be always challenging."

The IEA's Mandil says many experts are looking to liquefied natural gas as part of the solution. Because LNG can be shipped by sea over long distances, it offers the possibility of importing supplies from gas exporters like Algeria or Libya without depending on pipelines.

Russia's Powerful Pipelines
This is especially important considering that some of the most viable alternative energy suppliers -- those in the Caucasus and Central Asia -- depend on Russian pipeline to carry their energy exports to Europe.

"If the only way of reaching this gas is through Gazprom pipelines, and if the market reform fails in Russia, that means if there is no unbundling between the pipelines and the business activities, well, it becomes Russian gas," Mandil said.

All this uncertainty linked to deliveries from Russia -- as well as attempts to switch to cleaner energy sources in an effort to slow global warming -- is also leading Europe to look to renewable energy sources as a means of reducing its dependence on foreign energy.
The development of such alternative fuels, combined with new suppliers and sources of traditional energy supplies could go a long way in assuaging Europe's fears over the future.
Ukraine And European Energy Security
Ukraine And European Energy Security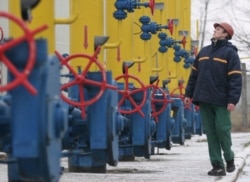 A worker inspects a gas facility outside of Kyiv (epa file photo)

MURKY CONNECTIONS. A year after the so-called gas war between Moscow and Kyiv, energy transhipments from Russia to Europe via Ukraine remain a concern. On December 1, RFE/RL's Washington office hosted a briefing featuring Tom Mayne, an energy researcher for the London-based Global Witness. Mayne discussed the lack of transparency in the energy sectors of Ukraine, Russia, and gas supplier Turkmenistan.
LISTEN
Listen to the entire briefing (about 60 minutes):

Real Audio
Windows Media
RELATED ARTICLES
Neighbors Watch As Russia Moves Toward WTO Membership
Kyiv Announces Terms Of New Russian Gas Deal
Former U.S. Ambassador Says Kyiv Can Cope With Gas Price Rise
ARCHIVE
RFE/RL's English-language coverage of
Ukraine
,
Russia
, and
Turkmenistan
.