This year, responsibility for the June forum was handed to Economic Development and Trade Minister German Gref. Gref did his job well, bringing in hundreds of global CEOs, bankers, and trade officials including World Trade Organization head Pascal Lamy, EU Trade Commissioner Peter Mandelson, and Davos founder Klaus Schwab.
Russian President Vladimir Putin, fresh from the G8 summit in Heiligendamm, Germany, was an active participant in this year's economic forum. But the spotlight, to some degree, was focused on someone else -- Sergei Ivanov, a first deputy prime minister and a potential Putin successor in March 2008.
Sparkling Debut
Ivanov's introduction to the world's business elite was professional, effective, and efficient -- surpassing even that of his likely presidential rival, Dmitry Medvedev, at Davos in January. Presenting Ivanov, Gref said Russia was entering a "new political cycle." Ivanov took up his cue from there, delivering a forward-looking address laying out Russia's developmental course through the year 2020. Ivanov tried to sound both liberal and presidential, beginning his speech with a promise that Russia 15 years hence will be a democratic state "based on the rule of law and respecting the rights of the individual."
Ivanov also made a discreet swipe against U.S. President George W. Bush, who in a June 6 speech in Prague said "[Russian] reforms that were once promised to empower citizens have been derailed, with troubling implications for democratic development." In evident response, Ivanov said "there are many roads to the same goal," and that Russia's road would not necessarily be the same as that of Western democracies.
Ivanov went on to say that Russia would be among the world's five leading economies by 2020. Living standards, he went on, would come closer to those of highly developed countries, with a GNP of $30,000 per capita, as opposed to less than $12,000 in 2005. Moreover, he said, the country would pursue dominance in five critical industries -- nuclear energy, civil and military aviation, space, specialized shipbuilding, and nanotechnology. (Speaking after the forum, Ivanov said nanotechnology will contribute as much to the Russian economy as the nuclear and space industries combined did during the Soviet era.)
The first deputy prime minister acknowledged formidable challenges in meeting those goals, among them corruption, poor infrastructure, and drunkenness. But with time and careful management, Ivanov projected, Russia will be responsible for at least 10 percent of the world production in its hi-tech sectors, and will become a major force in aircraft manufacturing.
Ivanov acknowledged that in order for this scenario to materialize, the government would need to create major state holdings. But he strenuously denied this would translate into renationalization of key economic sectors. The state, he said, would buy out assets from private businesses "at market price and without confiscation."
Potential For Change
The mood among audience members was cautiously optimistic. James Wolfenson, the former World Bank president and top Citigroup executive, said Russia's growth rate would bring it closer to Asian Pacific countries than to Europe. He also cited human capital as one of Russia's greatest strengths, noting that the country's higher-learning institutions graduate over 1.2 million students a year.
John Lipsky, first deputy managing director at the International Monetary Fund, gave gentle praise as well, describing Russia's resources and well-educated population as "enviable." "With the right economic policies in place," he said, "the economic outlook will be exceptional."
Yegor Gaidar, the former Russian prime minister and a frequent critic of the Kremlin's current economic policy, himself predicted sustained growth in the Russian economic in the midterm. He told forum participants that Russia's economy will remain stable until 2010. He added, however, that the main challenge of the Russian economy -- its dependence on the world energy market -- remains unchanged. Some 84 percent of the Russian budget, he said, comes from the energy sector. Also, in distinct contrast to Ivanov, Gaidar spoke against the consolidation of state assets into superholdings, saying the state continues to own too much property. Gaidar said Russia's mounting demographic woes would present a further obstacle to the country's economic reforms.
With signed contracts reaching a record total of $13.5 billion, many Russian and foreign analysts view this year's forum as a success. Foreign investment for the first five months of 2007 reached $60 billion, a figure comparable with investment rates in China and higher than at any other point in Russia's post-Soviet history. (It's rumored that at least some of this investment is the funds of Russian oligarchs returning their capital home, fearful that rising tensions with the West will put their finances under unwelcome scrutiny abroad.)
Superstate In The Making?
In addition to being an economic success for Russia, the forum was also a political success for Ivanov, who in the eyes of the Russian elite now holds a clear lead over Medvedev. This conclusion was confirmed by a number of Russian pollsters and pundits, including Vitaly Tretyakov, editor in chief of the pro-Kremlin "Moskovskiye Novosti," who wrote that he personally could now go on vacation and put his political musings aside. Ivanov, he predicted, would be Russia's next president, Medvedev his prime minister, and a still-powerful Putin secretary of an upgraded Russian Security Council.
Not everyone in Russia, however, is pleased by the prospect of another KGB veteran serving as their next president. Combined with Ivanov's vision of a muscular hi-tech destiny, some may see Russia's future in the terms first described by fiction writer Maksim Kalashnikov in his 2003 book, "Forward To USSR-2", which envisions an unrealized plan for Soviet reform attributed to then-KGB head Yury Andropov.
"In 1980, the United States had a nightmare in which it saw the transformation of the USSR, a country with a clumsy socialist economy, into a smart, aggressive, and strong-willed 'Red Star' supercorporation," Kalashnikov wrote.
Is Sergei Ivanov the man who will finally make this vision a reality?

Russia's Contentious WTO Bid
Russia's Contentious WTO Bid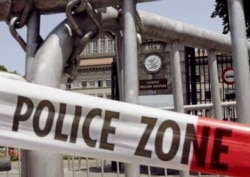 Russia remains barred from entering the WTO (epa)

WILL RUSSIA GET ITS WISH?

"It is of the utmost importance for us to complete talks this year in order to take part in a new political cycle with the status of a WTO member" -- Russian Economic Development and Trade Minister German Gref; April, 2007.

Russia has made clear its desire to enter the World Trade Organization ahead of parliamentary elections in December and presidential vote in March 2008.
But despite the removal of a major obstacle when the United States signed off on bilateral negotiations with Moscow in November 2006, Russia's accession to the world's largest trading bloc still faces difficulties:
Before Russia's bid can go to the WTO for a majority vote, bilateral negotiations must be completed with any current members who wish to do so. Russia hopes to wrap up outstanding negotiations -- with Cambodia, Vietnam, Georgia, and Guatemala -- by July.
Although Russia and Georgia initially completed bilateral negotiations in 2004, Georgia rescinded its approval over Moscow's failure to establish customs controls between Russia and the Georgian breakaway republics of Abkhazia and South Ossetia.
U.S. Trade Representative Susan Schwab announced in April that Washington is not yet prepared rescind the Jackson-Vanik amendment. The Cold War-era legislation, adopted in response to Soviet restrictions on the emigration of Jews and other minorities, prevents normal trade relations with Russia.
Russian First Deputy Prime Minister Sergei Ivanov in April was quoted by ITAR-TASS as saying: "If there are requirements that have not been not applied to other countries joining the WTO, we should not follow them."
Moscow may have to conduct bilateral with Kyiv in the event Ukraine joins the WTO before Russia does.
RELATED ARTICLES
Moscow Nears Deal With U.S. On WTO Entry
Georgian Premier Outlines Stance On Russian WTO Entry