Russian President Vladimir Putin has already held bilateral talks in St. Petersburg with a number of CIS leaders, including the Tajik, Georgian, and Uzbek presidents.
Armenian President Robert Kocharian and Azerbaijani President Ilham Aliyev are also due to continue talks on Nagorno-Karabakh on the summit's sidelines today. Those talks began on June 9.
Representatives of the OSCE's Minsk Group are also expected to take part.
The CIS summit is taking place in St. Petersburg at the same time as an international economic forum. More than 6,000 politicians and business managers from around the world are attending that plenary meeting.
Some 3,000 Russian opposition protesters marched through St. Petersburg on June 9, timed to coincide with the economic forum.
The protest was the latest in a series of so-called Marches of Dissent organized by Other Russia, a loose opposition coalition that accuses President Vladimir Putin of crushing democracy.
Police have forcefully dispersed previous such marches in different Russian cities, but the June 9 rally ended without violence.
(ITAR-TASS, Interfax, AFP)
Nagorno-Karabakh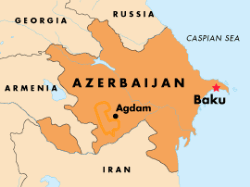 Click on the map to see an enlarged map of the Nagorno-Karabakh conflict area.
In February 1988, the local assembly in Stepanakert, the local capital of the Azerbaijani region of
NAGORNO-KARABAKH
, passed a resolution calling for unification of the predominantly ethnic-Armenian region with Armenia. There were reports of violence against local Azeris, followed by attacks against Armenians in the Azerbaijani city of Sumgait. In 1991-92, Azerbaijani forces occupied most of Nagorno-Karabakh, but the Armenians counterattacked and by 1993-94 had seized almost all of the region, as well as vast areas around it. About 600,000 Azeris were displaced and as many as 25,000 people were killed before a Russian-brokered cease-fire was imposed in May 1994.
For a complete archive of RFE/RL's coverage of the Nagorno-Karabakh conflict,click here.
Of particular interest:
2005 In Review: Conflicts In Caucasus Still Characterized By Gridlock
Nagorno-Karabakh President Expresses Optimism