Russian President Vladimir Putin is due to meet with some 100 foreign CEOs on the sidelines. Western officials have warned Russia could lose foreign investment if it backslides on democratic reforms.
The economic gathering coincides with an informal summit of the leaders of Commonwealth of Independent States (CIS).
Charm Offensive
The Russians appear to be launching a charm offensive in a bid to placate Western officials, who have warned Russia could lose major foreign investment if it backslides on democratic reforms.
The forum opened today with speeches by First Deputy Prime Minister Sergei Ivanov and Yegor Gaidar, the man many credit with helping transform the Soviet economy to a market economy. Former German Chancellor Gerhard Schroeder, who now works closely with Russia on energy, also addressed the forum.
RFE/RL correspondent Danila Galperovich, who is attending the forum, says the speeches sought to highlight what they characterized as Russia's economic transparency and liberal investment climate.
"Ivanov's speech was particularly interesting, because it was like one of Putin's speeches, but from five years ago, when Putin was speaking about the necessity of an open economy, the problem of corruption in Russia, about an economy without borders, about transparency of state powers. There's no question that's directed to investors and businessmen who are in the main hall," Galperovich said.
On June 8, Japanese auto group Suzuki Motor announced plans to build a factory in St. Petersburg by the end of 2009, at a cost of $116 million. The factory will be built alongside a factory owned by Toyota of Japan and will eventually produce 30,000 cars per year and employ 500 people.
Putin and his Georgian counterpart Mikheil Saakashvili met on the sidelines of the forum. The leaders discussed the warming of bilateral ties following a year that has seen bitter divisions between the two countries.
A Putin spokesman said Moscow would consider lifting its trade embargo against Georgian wine and agricultural products if "progress" is made in bilateral ties.
Saakashvili said ties should be normal. "They should be the friendliest and closest of ties. It's the main strategic principle in our approach to our relationship with Russia -- a close, friendly relationship based on respect, on the principle of territorial integrity, and by taking into account our mutual national interests," Saakashvili said.
Opposition March
Meanwhile, the opposition group Other Russia is due today to hold a sanctioned March of Dissent rally in the city.
Opposition leader Garry Kasparov says he is concerned about possible "provocations" from police and pro-Kremlin youth groups.
RFE/RL's Galperovich says clashes are certainly likely, as that has been the pattern at a string of recent opposition rallies. But he adds that because authorities are trying to put forward a tolerant face during the forum, it is possible that today's protests will proceed peacefully.
In Moscow today, police detained Sergei Udaltsov, the leader of the Red Youth Avant-Garde group, which is a member of Other Russia. Udaltsov was detained as he attempted to catch a plane to join the St. Petersburg protest.
And on June 8 during the Group of Eight (G8) summit in Germany, a man claiming to be a supporter of Other Russia disrupted Putin during a news conference by scattering leaflets that accused him of tyranny and yelling that he was an "enemy of freedom."
CIS Summit
Today's forum coincides with yet another event, an informal summit of the leaders of the CIS.
Armenian President Robert Kocharian and his Azerbaijani counterpart Ilham Aliyev are due to meet this evening in an attempt to advance the peace process over the disputed territory of Nagorno-Karabakh.
There is also talk that Putin will discuss Kosovo today with Serbian Prime Minister Vojislav Kostunica, who is also in St. Petersburg. Russia opposes Western-backed UN plans to grant gradual independence to Kosovo, a Serbian province with an ethnic-Albanian majority.
(with agency reports)
Moscow And Washington: Toe To Toe
Moscow And Washington: Toe To Toe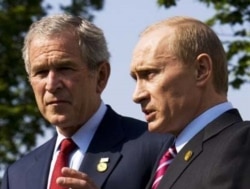 U.S. President George W. Bush (left) and Russian President Vladimir Putin at the G8 summit in Germany on June 7 (AFP)

MOUNTING TENSIONS. Relations between Russia and the United States have grown increasingly tense in recent months as issues like missile-defense, Kosovo's status, and Russia's domestic policies have provoked sharp, public differences. On June 5, U.S. President George W. Bush said democratic reforms in Russia have been "derailed"....(more)
RELATED ARTICLES
Silent Diplomacy Versus Public Criticism
Analysts Say New Arms Race Unlikely
Moscow's Patience With U.S., Allies 'Wearing Thin'
Russian Parliament Accuses U.S. Of Election Meddling
MORE: A special archive of RFE/RL's coverage of U.S.-Russian relations.