RFE/RL: President Putin seemed to suggest the radar station in Azerbaijan could be a substitute for the planned U.S. radar facility in the Czech Republic. But what about the interceptor missiles? American experts say the interceptors cannot be located too close to the potential threat -- in this case, Iran -- or they won't work, which is why they've chosen Poland as a base. Can you explain Putin's logic?
Aleksandr Golts: It's absolutely clear that [ground-based] interceptors are not capable, if they are deployed somewhere in Azerbaijan or nearby. We need another type of weapon. But Russian military experts with whom I discussed this problem said that THADD [Theater High-Altitude Area Defense] interceptors or even the Aegis system can be workable in this situation.
RFE/RL: Putin himself mentioned Aegis as a possibility. It's an U.S. ballistic-missile defense system. Can you describe how it works? Is it currently in use?
Golts: Aegis is deployed on American warships.
I think something like 80 warships have this Aegis system, which can be used against aircraft and cruise missiles, as well as ballistic missiles.
RFE/RL: If Aegis is a sea-based interceptor system and the goal would be protection from potential Iranian missiles, where would you base it? In the Caspian?
Golts: The Caspian will be the best place for American warships armed with the Aegis system. Why not? If we are speaking about cooperation between Azerbaijan, Russia, and the States.
RFE/RL: So to sum up, Putin's proposal has genuine technical merit, in your view. It is technically feasible?
Golts: One should understand that American missile defense is a totally, absolutely political project, which has nothing to do with real threats and answers. It's a totally political project. Putin's answer, again, is totally politically. He wants absolutely other things than what he claims now. So, the question about whether this proposal is workable or not simply depends on the political will of both sides. If [U.S. President George W.] Bush prefers some kind of calm relations with Russia over his specific relations with Poland and the Czech Republic, he will choose Putin's proposal. If not, we'll have long, long talks on this topic.
Iran: Missiles And More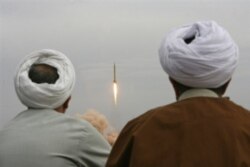 Iran tests its Shahab-3 medium-range missile in November 2006 (AFP)


HOW LONG A REACH? As the debate on missile defense sharpens, Tehran continues to develop its Shahab-3 missile, which is already capable of reaching some parts of Europe.... (more)
RELATED ARTICLES
Independent Nuclear Physicist Evaluates Iran's Nuclear Program
Iran Rocket Launch Another Show Of Prowess
How Close Is Iran To Getting Nuclear Bomb?
Iran's Super Weapons Claims Met With Skepticism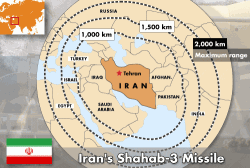 Click to enlarge the image.