Opposition leader Garry Kasparov says local officials have approved the rally.
Kasparov says that despite the approval he is concerned about possible "provocations" from police and pro-Kremlin youth groups.
Speaking to RFE/RL on the sidelines of a
conference in Prague this week, Kasparov said
he believes that mounting Western criticism led to the authorities
approving the demonstration.
"They accepted the rally, they
negotiated with us, they gave us the alternative route and it is in the
center. But we don't know what kind of measures they will take to
prevent us from having a successful rally," Kasparov said.
Kasparov pledged that the rally's organizers would do everything in their power to keep the demonstration peaceful.
In April, police violently broke up an opposition rally in St. Petersburg.
Russia's NGO Law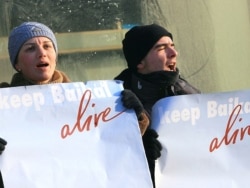 Russian environmental activists demonstrate in February 2006 against a proposed oil pipeline that they believe would have harmed Lake Baikal (TASS)


CLAMPING DOWN ON ACTIVISM. The authors of a report on Russia's controversial law on nongovernmental organizations issued by the U.S. Commission on International Religious Freedom told an RFE/RL briefing in Washington that the law places "disturbing" restrictions on NGOs.
LISTEN
Listen to the entire briefing (about 75 minutes):

Real Audio
Windows Media
RELATED ARTICLES
Foreign NGOs Rush To Beat Registration Deadline
Scrutiny Of Foreign Funds Hurts Democracy Programs
Spy Scandal Highlights Mounting Pressure On NGOs
U.S. Official Says New NGO Law Part Of Antidemocratic Trend

SUBSCRIBE
For a regular review of civil-society developments throughout RFE/RL's broadcast region, subscribe to "RFE/RL (Un)Civil Societies."