Putin made his comments at a press conference at the close of a Group of Eight summit in Heiligendamm, Germany.
The United States has proposed placing interceptor missiles in Poland and a radar station in the Czech Republic to counter threats from "rogue states" such as Iran and North Korea.
Putin proposed to U.S. President George W. Bush on June 7 that Washington use the Russian-controlled Qabala (Gabala) radar station in Azerbaijan. At his press conference today, Putin also said Russia is prepared to share information from the Qabala radar station with the United States military.
"In that case, there will be no need to build a new radar station in the Czech Republic or deploy antimissile systems in Poland," Putin said. "They could be deployed in the south. I'm speaking hypothetically now as this would have to be negotiated with the countries concerned, but those countries could be the United States' NATO allies, for example Turkey or even Iraq -- why did you fight after all? At least some good would come out of it. Antimissile systems could also be placed on sea platforms or navy vessels."
Earlier today, NATO's Secretary-General Jaap de Hoop Scheffer expressed caution about Putin's offer to use the radar base in Azerbaijan, suggesting that it was too close to Iran to be effective.
(compiled from agency reports)
Iran: Missiles And More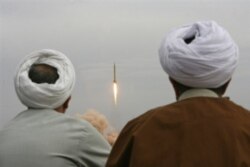 Iran tests its Shahab-3 medium-range missile in November 2006 (AFP)


HOW LONG A REACH? As the debate on missile defense sharpens, Tehran continues to develop its Shahab-3 missile, which is already capable of reaching some parts of Europe.... (more)
RELATED ARTICLES
Independent Nuclear Physicist Evaluates Iran's Nuclear Program
Iran Rocket Launch Another Show Of Prowess
How Close Is Iran To Getting Nuclear Bomb?
Iran's Super Weapons Claims Met With Skepticism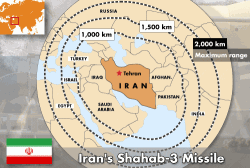 Click to enlarge the image.