But critics say British Petroleum's 2007 "Statistical Review Of World Energy," released this month, is far too optimistic.
In 2003, a team of scientists from Sweden's University of Uppsala presented evidence that purported to prove that the world's oil reserves are up to 80 percent less than predicted. They claim that production levels will peak by 2013.
Colin Campbell, a former chief geologist and vice president of BP, disagrees with the company's latest oil-reserve estimates. He recently explained in the "Independent" that he believes the production of regular oil, the kind which is easy and cheap to extract, peaked in 2005. By his estimates oil will become a rare commodity by 2011.
And Campbell confesses that he mistrusts figures provided by oil companies. He told the "Independent" in a recent article that, "When I was the boss of an oil company I would never tell the truth. It's not part of the game."
Saudi And Russian Reserves
Estimates of proven oil reserves in the Middle East have befuddled analysts for years because the Kingdom of Saudi Arabia has kept estimates of its reserves a state secret.
BP estimates of countries' oil reserves:
Iran: 86.7 years
Kazakhstan: 76.5
Saudi Arabia: 66.7
Azerbaijan: 29.3
Russia: 22.3 years
India: 19.3
United States: 12
China: 12
Turkmenistan: 9.2
United Kingdom: 6.5
Nevertheless, the BP report states that by the end of 2006, Saudi Arabia had reserves of 264.3 billion barrels, or almost 30 percent of the world's reserves.

Matthew Simmons, author of "Twilight In The Desert -- The Coming Saudi Oil Shock And The World Economy," published in 2005, believes that the Saudis are overstating the size of their reserves. Simmons writes: "Saudi Arabian production is at or very near its peak sustainable volume (if it did not peak almost 25 years ago) and is likely to go into decline in the very foreseeable future."

Simmons based his analysis on technical documents about the kingdom's seven giant oil fields that have been the workhorses of Saudi oil production for decades.

Fatih Birol, the chief economist of the International Energy Agency admitted in 2004 that Saudi production was "about flat."

Russian oil reserves are also a state secret. BP reported that by the end of 2006 Russia's proven oil reserves were 79.5 billion, or 6.6 percent of the world's total.

Estimates of Russian oil reserves keep increasing almost yearly. In 2004 BP's survey listed them to be 69.1 billion barrels, up from 45 billion in 2001. Some oil auditing firms believe that the reserves are much greater -- between 150 billion barrels and 200 billion barrels.

Dry Holes

Part of the problem of predicting how long oil will be readily available is the tremendous pressure placed on oil companies by shareholders to meet demand.

In January 2004 Royal Dutch Shell, the third-largest oil company in the world, shocked energy markets around the globe by announcing that its proven oil reserves were overstated by 23 percent.
At the time Shell was falling behind its competition in new oil-field discoveries and in acquiring other oil companies and their reserves. That year, two-thirds of Shell's most promising wells had been determined to be dry holes, and in an apparent attempt to maintain its market position the company overstated its proven reserves.
Accurate information is key at a time when many states are seeking to cut their growing consumption of oil in order to stave off global warming and reduce their dependence on foreign producers.
And the stakes are high, as once oil consumption overtakes production, an unprepared world faces a volatile situation.
Exporting Kazakhstan's Energy
Exporting Kazakhstan's Energy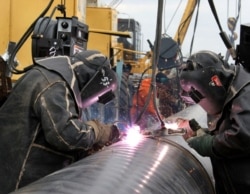 Work on a Kazakh pipeline (TASS file photo)


PRESSURE FROM THE KREMLIN? Columbia University political science professor Kimberly Marten told an RFE/RL briefing that Russia seems to be using its control of gas pipelines in the former Soviet Union to pursue its goals in Kazakhstan.
LISTEN
Listen to the entire briefing (about 60 minutes):

Real Audio
Windows Media
RELATED ARTICLES
The Emerging Post-Soviet Petrostates
Nazarbaev, Merkel Discuss Energy, Bilateral Ties
Nazarbaev Talking Energy, Economic Cooperation On China Visit
ARCHIVE
RFE/RL's coverage of
Kazakhstan
.