Katinka Barysch, the head of the Russia research
program at the London-based Centre for European Reform, has written
extensively about politics and economics in Eastern Europe and advised
Britain's House of Lords and European Commission on foreign policy. Barysch
tells RFE/RL correspondent Jeremy Bransten that she believes Europe has
woken up from its illusions about Russia. And that may not be a bad
thing -- if it leads to a more pragmatic relationship.

RFE/RL:
Does all this talk in Europe about a growing rift with Russia and a gap in values mean we're in for a new Cold War?
Katinka Barysch:
This is not the return of anything like the Cold War. The Cold War was a global, systemic, long-term conflict between two power blocs that was backed up by conflicting ideologies. It was global, there were proxy wars all over the world. Nobody is talking about anything like that at the moment.
Russia's doesn't claim it has an alternative ideology to what we have in the West, it just says: "We are a free country as well and we want to do things our way. What we want is not global dominance. What we want is respect." [This is] after what they see as a decade of humiliation.
So what we will see is a different kind of relationship, where Russia is not part of the West and it's not necessarily always a friend of the West, but it will cooperate with us in some areas and it will disagree in others.
RFE/RL:
Britain's Foreign Secretary David Miliband told Parliament that he considers Russia a "key international partner" in areas like trade and the fight against terrorism. But at the same time, London has made it clear it doesn't share Moscow's values or trust its institutions. Can London -- or Europe -- have it both ways? Can it ask Russia to be a partner while at the same time telling Russia it is not a member of the club?
Barysch:
That is the only way to go forward because we do need Russia and not only for its energy, but we also need it as an international player. Russia has a seat in the UN Security Council, it has a veto. We need Russia's help to prevent Iran from building nuclear weapons, to find a final status for Kosovo, and for all sorts of other issues.
So we need to have a functioning relationship with Russia but this can be an arms-length relationship. It doesn't mean that we have to continue pretending that Russians and Europeans all live in a common European house and share the same values. Because that is obviously not the case.
RFE/RL:
So you're saying Russia will never be a part of Europe and Europe has now awoken to that reality?
Barysch:
What made the relationship between Europe and Russian dysfunctional over recent years is that we couldn't acknowledge the reality that Russia was different. We kept on pretending that Russia was basically on a linear path toward capitalist economics and pluralist democracy. Now we have acknowledged that this is not the case so we will find a new way of dealing with each other. That might even be healthy.
RFE/RL:
When did the relationship between Europe and Russia begin to change? What was the catalyst that made the West reevaluate Russian President Vladimir Putin?
Barysch:
There wasn't a particular point. There was a rethinking that started in about 2002 already, as we saw that we were making very little progress with Russia on the very ambitious plans that we had to build a strategic partnership, to build what we call common spaces where we integrate very deeply in economics and on security issues and so forth.
And around 2002 we saw that there wasn't much progress on the ground and that working with Russia was actually exceedingly difficult. Why? [We asked ourselves] is our strategy working? Now that rethinking on the European side was painful for us, because we see Russia very much as part of the European continent and the European project. For us to let go of the idea that Russia wanted to be like us and wanted to work with us was quite painful. But it is happening now.
RFE/RL:
If Europe has rethought its approach to Russia, what's the incentive for Moscow to cooperate?
Barysch:
I think one of the main reasons why you see Russia being somewhat angry and antagonistic at the moment is because it wants to be taken seriously as a big international player. Now the way it goes about this at the moment is that it works as a blocking force in international processes, such as Kosovo -- not necessarily on Iran, where it has been more cooperative -- but on other issues it has mainly just used its veto.
Now, if Russia wants to be seen as a big international player in the medium to long run it also has to show responsibility. It has to work with us to do things that are necessary to preserve international peace and stability. Russia has absolutely no interest in an arms race in the Middle East or in political instability in the Balkans, or for that matter in the Caucasus or elsewhere in the neighborhood. It has no interest in blocking global progress in climate change and all sorts of other issues. So I do believe that once Russia is more self-confident in its international role, that it will be a responsible international player.
You know, we work on many international issues with China. Now nobody believes that China has to be our best friend or has to be like us or has to believe in our values but we do work with China on many issues. It is just that we saw Russia completely differently, until recently.
RFE/RL:
So, in your view, Europe should give up on the humans-rights, democracy agenda in Russia and adopt a "realpolitik" stance?
Barysch:
What hasn't worked over the last decade or so is that we think we can tell Russia what to do, because they just resent that. So at the moment, the only way forward that I see is that they find their own way of doing things. We're ready to help if we can but we cannot make our international relationship conditional on Russia following our advice at home.
RFE/RL:
Won't this approach leave Russian human-rights advocates and nongovernmental organizations (NGOs) in the lurch? After all, they are counting on Western support to push their reformist agenda.
Barysch:
That might well be the case but it's not that we haven't tried. We have tried to lecture Russia on human rights. And I think we should continue, obviously, to make the case for civil liberties, human rights, and democracy in Russia.
But we should be very specific in our criticism because our past experience has shown that if the West is united and if it is united on criticism, then we can have an impact. So that with the NGO law that was modified at the last minute to make it a little less stringent. But we shouldn't give Russia broad public lectures on the way it is going. If we criticize very specific cases, then we can probably make a difference.
Moscow And Washington: Toe To Toe
Moscow And Washington: Toe To Toe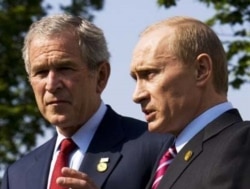 U.S. President George W. Bush (left) and Russian President Vladimir Putin at the G8 summit in Germany on June 7 (AFP)

MOUNTING TENSIONS. Relations between Russia and the United States have grown increasingly tense in recent months as issues like missile-defense, Kosovo's status, and Russia's domestic policies have provoked sharp, public differences. On June 5, U.S. President George W. Bush said democratic reforms in Russia have been "derailed"....(more)
RELATED ARTICLES
Silent Diplomacy Versus Public Criticism
Analysts Say New Arms Race Unlikely
Moscow's Patience With U.S., Allies 'Wearing Thin'
Russian Parliament Accuses U.S. Of Election Meddling
MORE: A special archive of RFE/RL's coverage of U.S.-Russian relations.