Russia on July 12 turned down a third draft resolution on Kosovo based on a plan submitted by UN envoy Martti Ahtisaari that provides a framework for independent statehood under the supervision of the European Union.
The latest version, taking into account Russian objections to the previous proposals, extends to four months the amount of time allocated for talks between Serbs and Kosovar Albanians on the future status of the province. The proposal, circulated at the UN by French and British delegates, also reportedly contained a condition under which the Ahtisaari plan would no longer automatically go into effect if the two sides failed to reach an agreement.

'Nothing New'
Russian Foreign Minister Sergei Lavrov, addressing journalists on July 12, said the last document differed little from the previous versions aside from its wording.
"We can only support a draft resolution that is
acceptable to both sides, Pristina and Belgrade. So far we see no such
agreement." -- Lavrov

"Behind the rather intricate diplomatic language of the draft resolution, there is a conclusion that after 120 days, whether or not the sides reach an agreement, the Ahtisaari plan will come into effect," he said. "And as you know we can only support a draft resolution that is acceptable to both sides, Pristina and Belgrade. So far we see no such agreement."
Essentially, Lavrov made clear that there is little room for compromise on Russia's part, unless Serbia agrees to independence for Kosovo, a development most pundits consider unrealistic.
In Belgrade, Serbian Prime Minister Vojislav Kostunica quickly rejected the new draft proposal, and back in Moscow, Konstantin Kosachyov, the chairman of the State Duma's Foreign Affairs Committee, said the "situation In Kosovo does not require an immediate solution."
Nevertheless, Lavrov assured journalists, "the problem of a decision on the independence of Kosovo has not been taken off the agenda."
Exchanging Polemics
Regardless, the latest Russian rejection has already led UN envoy Ahtisaari and Lavrov to engage in a new round of polemics.
Speaking in Helsinki, Ahtisaari said Moscow's reluctance to work out a compromise could further harm Russia image abroad. "Rather than strengthening its international position, Russia only weakens it," he said.
Lavrov, however, dismissed Ahtisaari's remark. "If he really said this, I consider his statement to be inappropriate. Maybe such a statement could reduce another country's international status, but not Russia's," Lavrov said on July 13.
He added: "If, in the course of considerations, one of the parties cannot accept these proposals [by Ahtisaari], negotiations should continue and they should be assisted by an impartial international mediator."
Hard-Line Stance
Lavrov's comments are in keeping with the position Russia has long held on the issue, one that has led it to hint that it might veto the plan if it reaches the UN Security Council.
As recently as July 9, Lavrov said that any solution not agreeable to both Serbia and Kosovo "cannot make it through the Security Council." Prior to that, responding to recent comments by U.S. officials, Lavrov said in a June 26 interview with RTR that "statements that that independence for Kosovo is inevitable do not convince us."
Although most pundits agree that Moscow's veto threats are no bluff, they differ in their interpretations of the Kremlin's hard-line stance.
When considering Moscow's motivation for its position, most cite Moscow's desire to extract concessions on other issues, to prevent a separatist trend within the Russian Federation, and to defend the inviolability of countries' territorial integrity.
Other analysts believe that Russia seeks to use the possibility of an independent Kosovo as leverage against neighboring states that seek closer ties with the West.
President Vladimir Putin, for instance, has repeatedly said that an independent Kosovo could serve as a precedent for the frozen conflicts in Georgia, whose pro-Moscow regions of South Ossetia and Abkhazia seek independence, and in Moldova, whose pro-Moscow Transdniester region also wants statehood.
Political Headache
In reality, however, Moscow is currently less fearful of seeing independence movements sparked within its ethnic republics, such as Chechnya, and does not really want to alter the status of breakaway republics in CIS states either.
If, for example, the independence of Kosovo were declared (a development that many consider inevitable) Russia would logically have to keep promises it has already made to the leaders of the breakaway republics and recognize their independent status. But in doing so, for example, regarding Abkhazia, Russia would also be forced to define its position on the hotly contested region of Nagorno-Karabakh, the source of a bitter armed conflict between Armenia and Azerbaijan from 1988-94.
But whatever decision Moscow makes on Karabakh, whether it be recognition or ignorance of its independent status, it can be assured of angering either Armenia or Azerbaijan.
Russia understandably would like to avoid such a political headache, and will seek to preserve the status quo rather than risk taking a stance on the principle of self-determination as opposed to territorial integrity.
Fixing Past Mistakes
There is also another factor in Moscow's persistence on the Kosovo issue. It relates to Russia's role in the Balkans in 1990s, when the country, under President Boris Yeltsin, cooperated with NATO and the United States in trying to resolve the Yugoslav crisis.
At that time, then-Russian Prime Minister Victor Chernomyrdin flew to Belgrade to convince late Yugoslav President Slobodan Milosevic to deal with the West. But in hindsight, Moscow now looks upon its decision as an embarrassing example of weakness and concession and would like to make amends.
As Sergei Karaganov, the head of the Council for Foreign and Defense Policy and a political adviser to Putin's administration, noted in a commentary on kremlin.org on 16 June, "Many in Moscow now want American and European colleagues to pay the full price for their games in Kosovo, although they do not want to admit it publicly."
In seeking to make up for its retreat from the Balkans in the past decade, Moscow has located the "weak link" in the West's position on Kosovo. Russia realizes that any unilateral declaration of independence for Kosovo that does not follow UN procedure will not be recognized by all members of the European Union, and could cause a rift within the bloc.
Russia designed its strategy on Kosovo based on this calculation.
Tired Of Cooperation
A good way of describing this strategy can be found in a recent comment by Aleksei Pushkov, a pro-Kremlin political analyst for NTV, who said on his show "Postkriptum" on 7 July that Russia should not "help the U.S. and EU escape from the difficult situation in Kosovo." He also listed reasons for testing the West's mettle on Kosovo.
First, he said, Russia has previously tried to cooperate with the United States and NATO -- particularly in Afghanistan after September 11, 2001 -- and has come away disappointed.
He said that if Russia does not get the concessions it seeks on Kosovo, it "will not see reciprocal steps toward us neither on the issue of U.S. missile-defense elements in Europe, nor on other issues on which we differ."
Second, the situation over Kosovo belongs to a category of "who will overplay whom." The Western media writes about it in terms of the EU being hostage to the Russia position and that Russia should be not allowed to define EU foreign policy, Pushkov said, but this is the language of competition, not cooperation. Therefore, if Russia were to alter its position on Kosovo toward compromise "it would be perceived [by the West] not as act of partnership, but as the defeat of a competitor who surrendered to pressure."
Pushkov's third point was that Russia's confrontation with the West on Kosovo is a matter of principle.
The main criteria, according to Pushkov, is whether Russia will return to the international arena as an independent player.
"Putin wants to turn the Kosovo [issue] into a demonstration that Russia has regained its clout. If we retreat, we will once again we be considered to be feeble," Pushkov wrote. "If we stand, our claims to a role of significance will be justified."
In the end, even a brief analysis of Moscow public-opinion leaders' statements on Kosovo shows that the Kremlin -- due to its interpretations of the country's ambitions and national interests -- is not interested in a quick resolution of the Kosovo problem.
Final Status For Kosovo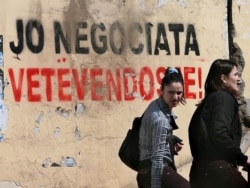 Pro-independence graffiti in Prishtina (epa)

FINALLY STATUS? Sabine Freizer, director of the Crisis Group's Europe Program, told an RFE/RL briefing that deep divisions in the UN Security Council make it uncertain what form Kosovo's future status might take.
LISTEN
Listen to the entire briefing (about 70 minutes):

Real Audio
Windows Media
ARCHIVE
RFE/RL's coverage of
Kosovo
. The website of
RFE/RL's South Slavic and Albanian Language Service
.