He reiterated his position today, as he wrapped up his European tour in Bulgaria. "The time is now to move the Ahtisaari plan," he said. "America believes that Kosovo ought to be independent."
The U.S. administration has long backed the plan proposed by UN special envoy Martti Ahtisaari, which emerged after fruitless negotiations between Belgrade and Pristina over Kosovo's future status.
The Ahtisaari blueprint would give Kosovo a form of supervised independence with many of the international attributes of statehood.
Russia's Position Unchanged
But the plan has run into trouble at the UN Security Council, with Russia saying it will not approve it as long as Serbia remains opposed.
The issue has become a major irritant in the U.S.-Russia relationship, with Russian President Vladimir Putin repeatedly linking the Kosovo issue to the other "frozen conflicts" where Moscow exerts influence: Transdniester in Moldova, South Ossetia and Abkhazia in Georgia, and Nagorno-Karabakh in Azerbaijan.
Why then, has the U.S. president suddenly decided to press the issue at the possible cost of further harming ties with Moscow? What does it mean?
Several factors are at work, according to diplomats and analysts. Above all, there is a feeling among many U.S. and European representatives that Russia's intransigence on the issue is not going to go away.
That was illustrated most recently during last week's Group of Eight (G8) leading industrialized economies summit in Germany, when French President Nicolas Sarkozy's offer to Russia to delay consideration of Kosovo's status for another six months was shot down by Putin.
Patience For Solution Running Out
In Washington and many European capitals, there is a growing feeling that losing more time could lead to a potentially explosive situation in Kosovo, where expectations for independence have long been high.
Radicals are putting increasing pressure on the local authorities, who are also feeling growing demands from the general population to show results.
As one UN diplomat, speaking to RFE/RL from Pristina put it: "The Kosovars have been told since the end of 2005 that the decision would be made in 2006 on the province's status. It's now the middle of 2007, nothing has happened and people are getting impatient."
Alexander Anderson, who heads the Pristina office of the International Crisis Group, a leading international think tank, says there is a growing consensus that with Russia not on board, it may be time for the rest of the international community to look for other solutions.
"People are beginning to think about possible 'Plan Bs' if Russia is determined to block this," Anderson says. "And looking at the months ahead, it might indeed get harder -- if anything -- with Russia, rather than easier, with perhaps the Russian elections coming up next year as an additional factor."

Would Europe Back Independence?
One possible scenario would be for the United States and its allies at the UN Security Council to push for a quick vote on the Ahtisaari plan. If Russia vetoed it, however, it would open a Pandora's box.
Many in Pristina interpreted Bush's statements as hinting that Washington could recognize Kosovo's independence unilaterally, if the UN process failed.
But would European countries follow suit? Anderson says that is the key question. Feelings have cooled in Western Europe toward Russia in recent months, but are the Europeans willing to risk possible confrontation with Moscow?
"I'm not yet sure about the Europeans. And that is, of course, going to be a crucial question," Anderson says. "The Europeans have managed to get sufficient unity to be able to back a plan for Kosovo's independence, using the Ahtisaari template, if there is a UN Security Council resolution. There is still a big question mark over whether the European Union will be ready to act coherently over Kosovo without such a resolution."
Splits remain within the EU, with some countries like Slovakia, Cyprus, and Spain opposed to independence for Kosovo. Germany, France, Britain, and the Scandinavian countries are much more open to it.
That would make it difficult for the EU to come up with a common position on recognizing Kosovo's possible independence, outside the UN framework. Individual countries would have to make their own decisions.
And that could get messy. It would also mean that the Ahtisaari plan, under which the European Union would assume supervisory control over Kosovo from the UN, would be dead.
Not to mention Russia's possible retaliatory actions and the impact this could have on the other so-called frozen conflicts.
With Moscow and Washington pressing the accelerator on Kosovo, there could be a rough ride ahead.
Moscow And Washington: Toe To Toe
Moscow And Washington: Toe To Toe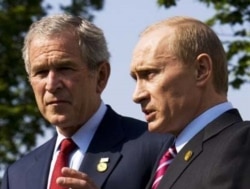 U.S. President George W. Bush (left) and Russian President Vladimir Putin at the G8 summit in Germany on June 7 (AFP)

MOUNTING TENSIONS. Relations between Russia and the United States have grown increasingly tense in recent months as issues like missile-defense, Kosovo's status, and Russia's domestic policies have provoked sharp, public differences. On June 5, U.S. President George W. Bush said democratic reforms in Russia have been "derailed"....(more)
RELATED ARTICLES
Silent Diplomacy Versus Public Criticism
Analysts Say New Arms Race Unlikely
Moscow's Patience With U.S., Allies 'Wearing Thin'
Russian Parliament Accuses U.S. Of Election Meddling
MORE: A special archive of RFE/RL's coverage of U.S.-Russian relations.