Bush spoke to reporters in Tirana after meeting with Albanian Prime Minister Sali Berisha.
"I made it clear that...two things [are needed]," Bush said of his talks with senior Albanian officials. "One, that we need to get moving. And two, that the end result is independence. And we spent a lot of time talking about this issue, here."
Bush said he does not support the idea of "endless dialogue on a subject that we've already made up our mind on."
He said, "Sooner rather than later you've got to say, 'Enough's enough; Kosovo's independent.'"
The Serbian government later responded to Bush's remarks on Kosovo, saying the province's future lies in the hands of the United Nations, not the United States.
Bush traveled later today from Albania to Bulgaria, the last stop on a European tour that has also taken him to the Czech Republic, Poland, and Italy, as well as a Group of Eight summit in Germany.
Albanian Welcome
Many Albanians had hoped Bush would press for independence for UN-administered Kosovo, which has an ethnic-Albanian majority.
"It has been a very encouraging visit not only for the Kosovar leadership but also for all citizens," Albanian student Bashmir Gjemaj told RFE/RL's South Slavic and Albanian Language Services. "The USA today, through the American president, has shown the determination to bring the [Kosovo status] process to a conclusion, with independence as the final outcome. [Ethnic] Albanians are lucky to have such support for their independence."
Although he was scheduled to be in the country for just several hours, Bush enjoyed a hero's welcome -- in stark contrast to the public protests that met him on previous legs of his European tour, in Germany and Italy.
Bush and his wife, Laura, descended from a plane at Tirana-Rainas airport, smiling and waving to an Albanian reception party.
Posters declaring "Albania Welcomes President Bush" were plastered across Tirana, amid numerous U.S. and Albanian flags and a large banner reading "Proud to Be Partners," underscoring the country's staunch support of Bush and the United States.
It was a welcome change for the U.S. leader, whose previous stops in Italy and in Germany, where he attended a Group of Eight (G8) summit, were met by protests and clashes between demonstrators and security forces.
Bush, the first sitting U.S. president to visit the mostly Muslim country, was met by Albanian President Alfred Moisiu and a military guard. Albania is among Europe's poorest countries.
Meeting With Albanian Troops
Bush met with President Moisiu and Prime Minister Berisha, and he greeted Albanian troops who have served in the U.S.-led campaigns in Iraq and Afghanistan.
In his remarks alongside Berisha, Bush praised Albanian troops as "courageous" and "respected" by the U.S. counterparts with whom they served on international missions.
"It was a very special meeting with a very special meaning for our military and civilian life," Major Arben Kingji, an Albanian soldier who has served in both Afghanistan and Iraq, told RFE/RL's South Slavic and Albanian Languages Service of the meeting. "President Bush expressed his gratitude for the contribution that Albanian Army makes in peacekeeping missions in Afghanistan and Iraq. He underlined the gratitude for the support and contribution of Albanian nation in the war against terror and in the international coalition for freedom.
"It was an excellent expression of gratitude from a U.S president for the excellent contribution that Albanian servicemen make to those missions," Kingji added.
Bush also planned to lunch with the prime ministers of Albania, Macedonia, and Croatia, which hope to join NATO in 2008.
Kosovo Focus
The ethnic-Albanian majority in neighboring Kosovo is pushing for independence from Serbia.
Tirana resident Lutfi Zeneli said he was grateful for U.S. help in what he described as the "liberation" of Kosovo.
The United States, under then-President Bill Clinton, urged NATO intervention in Kosovo in 1999. Three months of NATO bombing expelled Serbian troops accused of killing Kosovar Albanian civilians.
"This visit is majestic," Zeneli said. "This is the first time a U.S. president has come here, and we plan to receive him with pleasure. The United States holds the key to the balance of power in the world. And for a small country like us, this is marvelous. The United States helped us in the liberation of Kosovo. America is fantastic."
Bush urged Albania to help maintain calm and peace in Kosovo as the province's independence process moves forward.
He also said he has a "deep desire" to see Albania join NATO, but that Tirana must continue with reforms first.
Russian View
Moscow has expressed opposition to the UN plan to give Kosovo internationally supervised statehood, arguing it would set a dangerous precedent for other breakaway regions around the world.
Russian President Vladimir Putin met in St. Petersburg with Serbian Prime Minister Vojislav Kostunica on June 9, on the sidelines of an international economic forum in St. Petersburg, to discuss the final status of Kosovo.
After the talks, Putin said Russia remains opposed to a UN plan that would grant internationally supervised independence to the Serbian province.
"I have no doubt that you will pay attention to our position in discussions on the fundamental principles of international law," Putin said. "This applies, first of all, to the Balkans. You know that we always proceed from the principle of territorial integrity. Unfortunately now, attempts have been undertaken to erode these basic principles. And this, of course, creates problems for us in the post-Soviet space."
Kostunica, in turn, reiterated Belgrade's staunch opposition to the UN plan.
"Serbia finally and completely rejected the [UN special envoy Martti] Ahtisaari plan, despite the UN Charter, because the plan will seize 15 percent of our territory."
'Bring This Issue To A Head'
Speaking at a news conference in Rome on June 9, Bush said that "it's time" to move forward with the UN plan.
Bush also mentioned the possibility that Serbia be offered the incentive of EU membership as "a way forward."
"It's time to bring this issue to a head," Bush said. "And obviously there's deep concern about what that would mean, whether to accept it or not. I understand that. The Kosovars are eagerly anticipating a decision by the world, and at the same time, [Italian Prime Minister] Romano [Prodi] is right, we need to make sure that the Serbs see a way forward. And one good way forward is, potentially, EU membership."
Despite the prominent pro-American display, security was tight in Tirana for Bush's visit. Police took up positions every 50 meters along the streets, and snipers guarded the capital's squares.
Thousands of security forces were deployed across the city.
From Albania, Bush traveled to Bulgaria for his first official visit to that country.
Bulgaria, a NATO and EU member, is also a close ally of the United States. Bulgaria has allowed U.S. troops to be deployed at several Bulgarian military facilities and has extended its Iraq mission until March 2008.
Final Status For Kosovo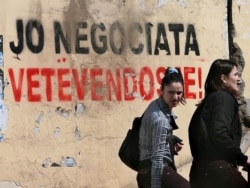 Pro-independence graffiti in Prishtina (epa)

FINALLY STATUS? Sabine Freizer, director of the Crisis Group's Europe Program, told an RFE/RL briefing that deep divisions in the UN Security Council make it uncertain what form Kosovo's future status might take.
LISTEN
Listen to the entire briefing (about 70 minutes):

Real Audio
Windows Media
ARCHIVE
RFE/RL's coverage of
Kosovo
. The website of
RFE/RL's South Slavic and Albanian Language Service
.