The main two outcomes of the gathering are a multibillion-dollar program to help combat deadly diseases in Africa and a deal to seek substantial cuts in greenhouse-gas emissions. The summit has nonetheless disappointed many campaigners, who say the G8 is falling short of its commitments.
The summit's host, German Chancellor Angela Merkel, put a positive spin on the gathering.
"What was important in this summit is that for the first time, a structured and long-term process of permanent contact was organized," Merkel said today. "I think this is the message -- without each other we can no longer manage, we cannot give globalization a human face."
Merkel touted the deal on climate change as one of the summit's major achievements. Leaders on June 7 agreed to seek "substantial" cuts in greenhouse-gas emissions in an effort to tackle global warming. But the deal, which fell short of setting mandatory targets for emissions cuts, has left many environmentalists unimpressed.
Focus On Africa
The other critical agreement reached at the summit was a pledge for an additional $60 billion in assistance to Africa to combat the spread of tuberculosis, malaria, and HIV, the virus that causes AIDS.
British Prime Minister Tony Blair said the group also agreed to offer Africa support in other areas.
"There's a $60 billion commitment on help for HIV/AIDS," he said. "There's a major initiative on education and additional funding for that. There's support for African peacekeeping, support for Africa's ability to trade its goods, and support, also, for proper governance."
The eight countries also renewed a commitment made at the 2005 Gleneagles summit to double development aid by the year 2010. Half of that aid would go to Africa.
But here also, the G8's decisions met with disappointment. Aid groups blamed the club of rich nations for not delivering on its promises, saying the aid package merely promises money that had already been announced. Campaigners also criticized the announced program for failing to set a timetable and break down individual countries' contributions.
Pop star and anti-poverty activist Bono accused the G8 of disguising its failure to help Africa behind bureaucratic "babble."
Unity On Iran, Division On Kosovo
On foreign policy issues, G8 leaders issued a series of resolutions stating their common positions.
They urged North Korea to stop testing medium-range missiles and abandon all its nuclear activities, and threatened to take "new measures" against Iran unless the Islamic republic halts its uranium-enrichment program.
They also called for a swift conclusion to the World Trade Organization's Doha round of global free-trade negotiations.
The G8 leaders, however, were unable to reach a common position on the future of Serbia's independence-seeking province of Kosovo.
Russia, a long-time ally of Serbia, continues to block a UN plan that would give Kosovo internationally supervised independence.
Russian President Vladimir Putin reiterated his view that if Kosovo gains independence, so should South Ossetia and Abkhazia -- Georgia's two pro-Russian separatist regions.
"If we all come to the conclusion that in the current international situation, the principle of the right to self-determination is more important than the principle of countries' territorial integrity, then we should be guided by this principle in all parts of the world and not only in those parts that are favored by some of our partners," Putin said. "And then the right of self-determination should apply both to the peoples living in the post-Yugoslav space and to the peoples of the Caucasus living in the post-Soviet space."
RFE/RL Reports On AIDS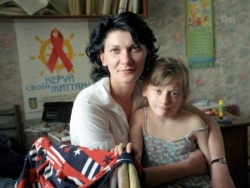 An HIV-positive Ukrainian woman and her daughter (epa)

FACES OF THE EPIDEMIC: HIV-infection rates continue to soar in many parts of RFE/RL's broadcast region, from Ukraine and Russia to Central Asia. RFE/RL frequently reports on the problems associated with the pandemic and efforts to combat them.
RELATED ARTICLES
China Steps Up Fight Against Spreading Epidemic
Iranian Brothers Change The Face Of HIV, Drug-Addiction Treatment
Drug-Treatment Effort Targets HIV/AIDS In Afghanistan
Tatarstan Clinic Is Bold Exception In Russia's HIV Battle
Fourteen Kazakh Children Infected With HIV In Hospitals
UNAIDS Head On Epidemic In CIS
Russia's 'Miss Positive' Puts Public Face On Battle With HIV/AIDS