RFE/RL:
If it were up to Freedom House, where would the U.S. government be focusing its efforts to support overseas democracies?
Amanda Abrams:
In repressive societies, and in those that are becoming increasingly repressive, the real way to attack what's going on is to support the NGOs and the human rights activists, because these folks are really the substance of the movement that can maybe reverse things.
RFE/RL:
How has the United States shifted its focus?
Abrams:
For example, they are working with the judiciary -- which of course is worthwhile -- working with legislatures, working with the legislative branch. So, sort of going more from the top down and looking more at governance issues. Which are certainly quite valid, but they're only part of the picture.
RFE/RL:
Your report expresses concern about the need for U.S. aid to individuals and NGOs in the former Soviet Union, particularly Russia. Can you elaborate?
Abrams:
It definitely seems that President [Vladimir] Putin has done -- is doing -- what he can to stifle independent voices. And there have been increasing restrictions -- particularly the
NGO law and other activities
-- so that even with [the presence of] opposition parties, there's been less and less freedom for opposition voices to be heard. This, we think, is really not combating the issue at all.
RFE/RL:
Does Freedom House have any other special concerns in the former Soviet Union?
Abrams:
In Uzbekistan, for example,
Umida Niyazova
is a journalist and human rights activist who's been in custody since mid-January. She's somebody who could get up to 30 years [in prison]. Her charges are illegal border crossing and possessing illegal literature, which is essentially Human Rights Watch documents, and another charge that's very similar.
And basically she's just a human rights activist who's, we think, being targeted specifically for those activities. So, someone like her -- there are various things that she might need, and certainly before we even get to the point of someone like her being arrested, these folks need our support. And often that support is monetary or in resources.
RFE/RL:
Had the U.S. government supported Niyazova until now?
Abrams:
I think off and on. I know she [Niyazova] had worked with international human rights groups. I don't even know, frankly, if the infrastructure exists yet [in the U.S. government] to really reach out to human rights activists to the degree that we could and on, sometimes, an emergency basis. There are some funds that are there for working with human rights activists on an emergency basis, but often it may be limited just to legal defense funds. So if this [Niyazova case] was seen as important [to the U.S. government], we would want to see a lot more flexibility in some of the funding tools for these human rights defenders.
RFE/RL:
So far, we've focused on Freedom House's concerns about the proposed U.S. budget for promoting democracy. Are there any positive elements in the budget?
Abrams:
In a general sense, yes. We're seen an increase in democracy funding around the world, which is great, and we're also seeing increases in certain regions, but the former Soviet Union isn't one of the regions that's really receiving an increase, I'd say, generally speaking.
Central Asia, for example, has been sort of overlooked and is generally going down [in terms of funding]. The Caucasus -- we're urging more funding in a general sense, not so much [for] Armenia, but [for] Azerbaijan and Georgia. Even Ukraine -- we're saying, "Don't forget about it."
So each country has a different situation, but in a number of cases, either they're being seen, we think, as lost causes, like Uzbekistan, or political issues, like Russia, or already have graduated [viewed as already have graduated to democracy], like Georgia and Ukraine. And with those two, we don't think they have quite graduated yet, and they're not quite ready to be left alone.
RFE/RL:
Do you mean to say that the United States, in a way, is shifting its focus away from the former Soviet Union on human rights and democracy issues?
Abrams:
Perhaps. It seems they have done some reprioritizing. There's been increased democracy funding for Africa, and we very much congratulate that. But perhaps they've decided to consolidate a bit their funding and their programming to some of the countries that maybe matter more or that there's a better chance of affecting. So that may be, to some degree, why there's been a bit of a shift.
RFE/RL's Broadcast Countries
RFE/RL's Broadcast Countries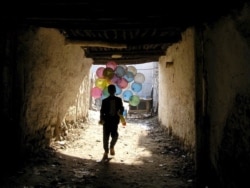 A boy sells balloons in Kabul because he is unable to go to school (epa)


A BLEAK PICTURE: Below, HRW experts comment on the human rights situations in some of RFE/RL's broadcast countries.
Human Rights Watch's Asia Research Director Sam Zarifi, speaking about Afghanistan:
"The Taliban have been using increasingly brutal tactics such as suicide bombings and attacking soft targets, such as health clinics and schools. The attacks on schools have been particularly vicious. More than 200,000 children who were in school last year have not been able to go to school this year. We've seen over 130 schools attacked. The resulting fear, of course, has caused a huge amount of resentment, especially in southern Afghanistan, because ordinary Afghans feel that President [Hamid] Karzai and his international backers are not able to support them and provide them what they need.
Basic reconstruction and development throughout the south has essentially come to a halt in many areas. The situation is not just bad in the south, however. In the north and in the west of the country, warlords -- many of them ostensibly allied with the government - have also used the threat of the Taliban and the weakness of the international community and President Karzai to re-entrench themselves and so Human Rights Watch has been documenting numerous instances of land grabs, political oppression and rampant human rights abuses by these warlords, many of whom are also involved in the drug trade."
Giorgi Gogia, of Human Rights Watch's Caucasus Office, speaking about Georgia:
"Georgia, in late 2005, announced a reform of its criminal justice system and started a rigorous fight against organized crime, particularly against the power of organized crime bosses. While this move is certainly commendable, this had some negative consequences, particularly overcrowding in prisons and abuse of power by some police or law enforcement structures. Overcrowding is particularly a big problem in Georgian prisons, considering that they are very poorly ventilated, filthy, and prisoners very often receive inadequate nutrition and substantive medical care."
Rachel Denber, deputy director of Human Rights Watch's Europe and Central Asia division, speaking about Kyrgyzstan:
"In September, Human Rights Watch released a report that documented the poor state response to domestic violence and bride kidnapping for forced marriage in Kyrgyzstan. Our main finding, which I think is consonant with the conclusions of Kyrgyz human rights organizations, is that the authorities just allow for impunity for domestic violence and kidnapping for forced marriage."
Rachel Denber, deputy director of Human Rights Watch's Europe and Central Asia division, speaking about Turkmenistan:
"Turkmenistan is one of the world's most repressive and closed countries. The authorities severely suppress all forms of dissent and they absolutely isolate the population from the outside world. The president, who just passed away on December 21, President Saparmurat Niyazov, had declared himself president for life. He presided over a massive and grotesque cult of personality. This year, due to international pressure, the government reduced some harassment of followers of minority religions; they released several people from psychiatric institutions, where they had been forcibly detained as a measure of punishment. And they allowed one dissident to travel abroad. But otherwise, 2006 was as disastrous as every other year for human rights in Turkmenistan."
Rachel Denber, deputy director of Human Rights Watch's Europe and Central Asia division, speaking about Uzbekistan:
"2006 was one of the worst years for human rights in Uzbekistan in the 15 years since Uzbekistan's independence from the Soviet Union. There has still been no justice for the massacre that happened in May 2005 in Andijon, in Uzbekistan, during which government troops fired on mostly unarmed protestors -- no justice for that whatsoever. And the Uzbek government has continuously rejected all efforts to have an international, independent investigation of the massacre. The government crackdown on human rights defenders, independent journalists, and political activists, is the fiercest we have ever seen in Uzbekistan, since independence."