A law passed last year requires all NGOs and charitable organizations that receive funding from abroad to reregister with federal authorities and to provide detailed information about where their money comes from.
Tatyana Kasatkina is trying to get back to work. For the last three weeks, the director of the human rights group Memorial has held endless meetings with lawyers and filed hundreds of pages of documentation to show where she gets her funding.
"We believe the U.S. position, concealed as an effort to promote international standards of human rights and democratic principles, is a veiled attempt to put pressure on Russia ahead of elections," Duma Deputy Sergei Popov said.
"There's a huge number of forms that we need to fill in, a colossal amount," Kasatkina said. "Of course it takes us away from our work entirely. Of course it involves spending our own money on photocopying and other things. It's not good at all. It's not designed to allow organizations like ours to work effectively."
Tight Monitoring Of Foreign Funds
The January 2006 law imposes heavy bureaucratic control over NGO finances, monitors foreign grants they receive, and bans them from participating in political activities.
Kasatkina says she thinks the law is yet another attempt by President Vladimir Putin's government to suppress freedom of speech and democracy.
"This is an attempt, in actual fact, to destroy civil society," Kastkina said, "because the statement [put out by the government] says that NGOs cannot receive funding from abroad. So where are we going to get our funding? Russia doesn't give us funding; Russian businesses don't give us funding. And they make remarks in the Duma like this -- that this funding will inevitably lead to a colored revolution. And of course we all understand that what they are referring to is [the 2004 Orange Revolution in] Ukraine."
Cries Of Foreign Meddling
On April 13, the Duma reacted angrily to a U.S. State Department report that criticized Russia's rights record.
Parliamentarians unanimously approved a resolution expressing concern over what they called "growing and unprecedented attempts" by the United States to interfere in internal issues -- including the funding of NGOs.
Sergei Popov, of the pro-Kremlin Unified Russia faction, is chairman of the Russian State Duma's Committee for Public and Religious Organizations. He accuses Washington of meddling in Russian affairs to influence the outcome of parliamentary elections in December 2007 and the presidential vote in March 2008.
"We believe that the U.S. position, concealed as an effort to promote international standards of human rights and democratic principles, is a veiled attempt to put pressure on Russia ahead of elections," Popov said.
Twenty police officers from the Interior Ministry's Economic Crimes Department on April 18 locked themselves inside the Moscow offices of the U.S.-based NGO Internews, which trains journalists and works with media outlets.
The officers confiscated financial records they said were tied to the recent detention of the Internews head at Moscow's Sheremetyevo Airport for failing to declare excess cash.
But Internews staff suggested the raid was more likely linked to the NGO's work with the Russian media community ahead of the elections.
Memorial's Kasatkina says NGOs are being persecuted despite fulfilling a role that the Russian government has failed to play.
"We are completely transparent," she said. "All the material [relating to where we get our funding] is posted on our website, and we send all the information to the prosecutor-general and to the presidential administration. So first and foremost we are working with the authorities. What do we do? We fill a niche that our government is unable to fill. We are doing it for the sake of Russia. We want our government to follow the law. What it means is that if we don't get this funding, there won't be any free legal consultations available. And how many people will that leave utterly helpless?"
'No Serious Consequences'
Yelena Kovalyova, a spokeswoman for the Federal Registration Service, which handles the new documentation system, said it was too early to say how many NGOs had submitted their forms by the April 15 deadline, or what the penalties for missing the date might be.
"There won't be any serious consequences," Kovalyova said. "What sort of consequences? There is a law. Everything will be done according to the law. There is a law. We work exclusively according to the law. Those measures that are written in the law will be the measures that we take."
Memorial's Kasatkina is not optimistic.
"Everything has only just been submitted, and I think that they don't yet know how they can suppress us," she said. "But I think it is very probable that some NGOs will be closed down."
Among the new requirements, NGOs must now list all foreign donations received and specify exactly how those funds were used.
FURTHER READING
Fearing Colored Revolutions

Analysts view the crackdown on NGOs as an active measure to forestall a public uprising such as those in Georgia, Kyrgyzstan, and Ukraine.

more

U.S. Worried By Antidemocratic Trend

U.S. Assistant Secretary of State Barry Lowenkron discusses the Kremlin's "fundamental misunderstanding" of the way NGOs function.

more
Russia's NGO Law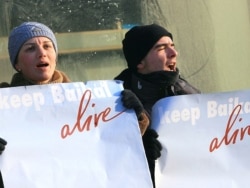 Russian environmental activists demonstrate in February 2006 against a proposed oil pipeline that they believe would have harmed Lake Baikal (TASS)


CLAMPING DOWN ON ACTIVISM. The authors of a report on Russia's controversial law on nongovernmental organizations issued by the U.S. Commission on International Religious Freedom told an RFE/RL briefing in Washington that the law places "disturbing" restrictions on NGOs.
LISTEN
Listen to the entire briefing (about 75 minutes):

Real Audio
Windows Media
RELATED ARTICLES
Foreign NGOs Rush To Beat Registration Deadline
Scrutiny Of Foreign Funds Hurts Democracy Programs
Spy Scandal Highlights Mounting Pressure On NGOs
U.S. Official Says New NGO Law Part Of Antidemocratic Trend

SUBSCRIBE
For a regular review of civil-society developments throughout RFE/RL's broadcast region, subscribe to "RFE/RL (Un)Civil Societies."