These documents will join the thick file that Ismael Shihab El Din, the office head, hopes to submit to Russia's Federal Registration Service on October 18 -- the deadline for foreign NGOs to reregister or close down.
"We had to gather a lot documents, including the passport numbers of the founding members," he says. The registration service has "one working day a week, Wednesday, so there will probably be a lot of people next week. We'll have to get up at the crack of dawn. Of course, this is preventing us from functioning normally for a certain time."
Mountains Of Paperwork
Like many staffers at foreign NGOs in Russia, Shihab El Din has spent much of the past few weeks putting together his group's application for reregistration.
"At first we didn't even know we had to reregister. When this process started, no one called us, we didn't receive any official notification to come and reregister."
It's been no small feat. The list of documents that NGOs have been asked to submit is massive. In addition to providing passport data and home addresses for founding members, each group must present a document that confirms the NGO's charter grants it permission to operate in Russia.
Gulnara, a member of the Medecins du Monde staff in Moscow, pulls out a paper from a bulging plastic folder. The reregistration procedure, she explains, has been fraught with confusion from the start.
"According to this form, for example, only seven documents need to be submitted," she says. "But when we consulted a lawyer, he gave us a much longer list, so we had to gather many additional documents. At first we didn't even know we had to reregister. When this process started, no one called us, we didn't receive any official notification to come and reregister."
Andrew Somers is the president of the American Chamber of Commerce, which, in addition to reregistering itself, has offered advice to other NGOs going through the process. He says collecting the documents has been particularly challenging for small organizations.
"The application contains a number of obligations to get notarization, and so on and so forth. So I imagine that this is the main problem, and if you are a smaller organization it's harder to organize this kind of transfer of documents abroad, finding out how to get something apostiled, getting it back in time, making sure it's accurate," Somers says. "This is a very formalistic society, and there are a lot of formal obligations that make you wonder why they're there. But they're there, and you have to fill out the form."
Official Obstacles
To help dispel the confusion surrounding the new law, the chamber has organized several meetings between foreign NGOs and Anatoly Panchenko, the deputy chief of the Federal Registration Service department in charge of NGOs.
It's not clear how helpful these meetings have been. During one last month, Panchenko urged NGOs to speed up their registration. He complained that many organizations had submitted what he called "repulsive" translations of their paperwork into Russian and had made mistakes while filling out certain forms.
The Russian government released its registration requirements in June, six weeks after passing new regulations restricting the work of foreign NGOs. Those NGOs who chose to reregister have had relatively little time to compile their dossier.
The Moscow branch of the Heritage Foundation, a respected policy-research institute based in Washington, has already filed its application. Director Yevgeny Volk says the procedure has consumed vast amounts of time and effort.
"The file we submitted contained about 200 pages," he says. "We had to present the charter of the organization that set up a representative office, and all founding members of the organization had to give their approval for the opening of a representative office [in Moscow]. Just imagine: Heritage was founded in 1973; we had to find its founders, some of whom are impossible to find. Over the past 33 years, many have gone to the next world, others have lost contact."
Intent Clear
Those NGOs whose charter makes no specific provision for opening an office in Russia have had to amend their charter to comply with Russia's new NGO law, adding to the deadline pressure.
The law has been widely criticized for giving the state too much control over civil societies. Like many NGO leaders, Volk cautions that the bill may be used by the government to crack down on foreign groups whose activities it disapproves of.
"On a political level, this clearly aims at squeezing foreign representative offices out of Russia," he notes. "We were openly told, 'If you're not happy, don't file any documents and don't work.' Absolutely no one is interested in having [foreign NGOs] here."
As of October 12, the Federal Registration Service had granted reregistration to just 80 of the roughly 500 foreign NGOs currently operating in Russia.
Russia's Democratic Development
Russia's Democratic Development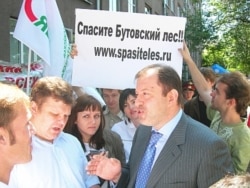 Demonstrators speak with local politicians in Butovo about the destruction of a local forest in July 2006 (RFE/RL)

IS RUSSIAN DEMOCRACY MANAGING? Russian President Vladimir Putin has said Western powers seek to pressure Russia under the pretext of concern over its democratic development. He has said Russia is ready to listen to "well-intentioned criticism," but will not allow anyone to interfere in its internal affairs. The Kremlin has been criticized for stifling political oppostion, increasing central control over the media, and cracking down on the work on nongovernmental organizations.
RELATED ARTICLES
Concerns Raised About Moscow Chairing Rights Committee
Using Racism Is A Time-Honored Kremlin Tool
Putin Comes Under Fire At Global Media Congress
Oligarch's Case A Sign Of The Times
'Letter Of 100' Warns That Putin Is Suppressing Democracy
A Hard-Line Agenda For Putin's Second Term
Book Says Putin's Russia Falls 'Between Democracy and Dictatorship'
NGOs Denounce Status Changes As Move To Curb Activities
Scrutiny Of Foreign Funds Hurts Democracy Programs
U.S. Official Says Russian NGO Law Part Of Antidemocratic Trend

SUBSCRIBE
For news and analysis on Russia by e-mail,
subscribe to "RFE/RL Russia Report."