New Russian Law On NGOs Goes Into Effect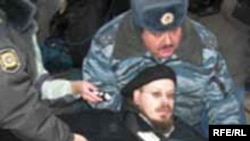 Police detaining a protester at a December 2005 demonstration against the NGO bill outside the Duma (RFE/RL) April 17, 2006 -- A controversial new law regulating nongovernmental organizations (NGOs) in Russia entered into force today.
The legislation has been criticized by many NGOs, as well as Western governments, for giving the state too much control over civil society.

President Vladimir Putin has argued that the rules are needed to help stop terrorists, money launderers, and foreign intelligence services from using NGOs as a cover.
Many in the West regard Putin's administration as hostile to civil liberties and democratic trademarks such as a free press. Hundreds of Russians demonstrated on April 16 to express dissatisfaction over a perceived clampdown on independent media, particularly television.

Under the new law, NGOs in Russia will have to re-register with the state and will be subject to annual checks to determine whether their activities conform to their charter. Their access to funds from abroad will also be restricted.

(Reuters and other agency reports)