MOSCOW, 15 February 2006 (RFE/RL) -- Issues surrounding NGO funding in Russia have been at the center of heated debate over the past few months.
Speaking on 7 February at the annual Federal Security Service (FSB) meeting in Moscow, President Putin did not fail to touch on the topic.
Putin said that NGOs played an important role in protecting the rights of citizens and should be permitted to operate in the country. However, he called on the security services to protect Russia from what he described as "attempts by foreign states to use these organizations to interfere in Russia's internal affairs."
Referring to recent FSB accusations that a dozen Russian human rights groups received money from a British spy working undercover at the British Embassy in Moscow, Putin told his FSB audience that NGOs should now think twice before accepting money.
"Russian counterintelligence has done a professional job," Putin said. "One can only express regret that this scandal has cast a shadow on nongovernmental organizations. But you have nothing to do with it. Those who receive financial aid should be more prudent about their ties."
On 23 January, the FSB accused four British diplomats of spying in Moscow with the help of a transmitter hidden in a fake rock. The accusations, which came a day after state-run RTR television aired footage allegedly showing the spies in action, quickly spiraled into a full-blown political scandal.
The U.K. Foreign Office denied wrongdoing and threatened to retaliate if Moscow took action against the diplomats.
Between A Rock And A Hard Place
But what sparked the most controversy in the scandal is perhaps the FSB's charge that one of the British diplomats had been caught "red-handed" channeling funds to several Russian rights groups.
Britain was quick to state that it openly provided financial support to Russian organizations promoting human rights and civil society. Russian NGOs accused of ties with the alleged spy also denied the charge, branding it a fabrication aimed at discrediting human rights groups critical of the Kremlin's policies.
In Russia, many suspect Russian authorities of engineering the spy scandal to justify the adoption of a controversial new law imposing harsh restrictions on NGOs.
The legislation, which allows Russian authorities to closely scrutinize the activities and funding of NGOs operating in the country, raised strong concern both at home and abroad when it was introduced in parliament in November.
Putin nonetheless signed the bill quietly in January after asking deputies to lift some of the restrictions. The legislation is due to go into force in April.
Fear Of A 'Colored' Planet
Many observers say the tough law reflects the government's fears that NGOs could become a spearhead for unrest similar to the "colored" revolutions in Georgia and Ukraine.
In both cases, Russian officials accused foreign powers of using civic groups as a front to foment the uprisings, which toppled entrenched leaders and swept Western-leaning governments into power.
Yevgeny Volk, the director of the Heritage Foundation think tank in Moscow, says the colored revolutions made the Kremlin reassess the influence of NGOs in Russia.
"For a long time, no attention was paid to civic organizations at all, they were not taken seriously. The colored revolutions in Ukraine, in Georgia, and what happened in Kyrgyzstan, were important factors for the Russian government. The power of nongovernmental organizations very much frightened top Russian officials, which explains the heightened attention that is being paid to nongovernmental organizations," Volk said.
Democracy Is Not A Potato
Since the uprisings -- particularly the Orange Revolution in Ukraine -- Russian officials have been particularly vocal in denouncing attempts by foreign nations to fund democracy programs in Russia.
A great deal of scorn, for instance, was poured on the decision last November by the U.S. Congress to earmark $4 million in 2006 for the development of Russian democratic parties. State Duma Speaker Boris Gryzlov reacted by saying that such funding was unwarranted since Russia, he said, is already a democratic country. "If the West wants to help Russia," he said, "it had better support the development of the economy in our country."
Defense Minister Sergei Ivanov also voiced disapproval, saying Russians wished to remain "masters of their own house." Speaking to journalists on 5 February on the sidelines of an international security conference in Munich, Ivanov reiterated that Russia had no need for foreign-funded democracy programs. "Democracy," he said, "is not a potato that grows wherever you plant it."
The $4 million allocated by the U.S. Congress will be shared between three prominent U.S. organizations: the National Endowment for Democracy (NED), the National Democratic Institute (NDI), and the International Republican Institute (IRI).
"As far as the NED goes, we have a very wide-ranging program," said John Squier, the NED's program officer for Russia and Ukraine. "We cover issues ranging from human rights, to accountability and transparency, to freedom of the press and freedom of information, and improving the Russian justice system."
If the Russian government has woken up to the revolutionary potential of NGOs, the Kremlin might also have realized their possible value in countering opposition forces.
A few weeks after the U.S. Congress announced the aid for the development of democratic parties in Russia, the State Duma voted to allocate some 500 million rubles ($17.4 million) to promote civil society in Russia and defend the rights of Russians in the Baltic countries.
The move sparked harsh criticism in Russia. Rights campaigners accused the Kremlin of double standards and said it would likely use the money for dubious PR projects outside Russia -- particularly in Latvia and Estonia, where the Kremlin has long complained of discrimination against Russian-speaking minorities.
Despite the restrictions that are about to be slapped on NGOs, U.S. Ambassador to Russia Williams Burns told journalists on 7 February that the United States intends to continue supporting Russian NGOs. "We're going to continue -- and I'm sure this is true of many Russian NGOs -- we're going to continue to watch carefully the implementation of the NGO law because it's our view that NGOs can continue to play an extremely useful role in Russian society and we will continue to try and support that in every way that we can, consistent with Russian law," he said.
Despite the Kremlin's perception that foreign states have been particularly active in former Soviet countries in past years, the trend for spending in the area of democracy promotion is actually downward. Under the current U.S. administration, democracy-building programs have been slashed by 46 percent in the former Soviet Union.
Lyudmila Alekseyeva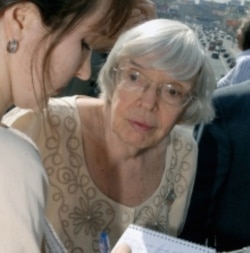 Lyudmila Alekseyeva (TASS)

THE END OF THE 'GOLDEN AGE' Moscow Helsinki Group founder and Chairwoman LYUDMILA ALEKSEYEVA spoke at an RFE/RL briefing in Washington, D.C., on October 26, discussing the difficulties facing Russian nongovernmental organizations. Tanya Lokshina, chairwoman of the DEMOS Center for Information and Research, also participated in the briefing.
According to Alekseyeva, who is a regular contributor to RFE/RL's Russian Service, the time in office of former Russian President Boris Yeltsin is considered a "golden age" for Russian NGOs -- even though this is "not [because] Yeltsin was a strong democrat," but rather because "society was left to its own devices and we managed to build civil society" while the "power elites" struggled among themselves and ignored the lower strata. Alekseyeva said Russia has emerged from its economic crises under President Vladimir Putin, but there is "no division of power in Russia under the model of executive vertical controls," where regional governors, a "puppet parliament," and a judiciary "stripped" of independence are under the Kremlin's control. Nonetheless, according to Alekseyeva, Russia is "not returning to Soviet times," because "today the attacks are selective" and "there is now a civil society" to resist the pressure.
Alekseyeva expressed concern that "Western democratic states don't react to attacks on human rights." She said that "in Soviet times, we few dissidents felt enormous Western support." She called that support "our shield," which she said is now missing. The supporters of civil society feel "now abandoned by Western allies," Alekseyeva said.
LISTEN
Listen to the complete panel discussion (about 90 minutes):

Real Audio
Windows Media
More stories featuring Alekseyeva and the Moscow Helsinki Group:
Human Rights Groups Spurn Chechen Poll
What Is The Biggest Threat To Stability In Kabardino-Balkaria?
Geologist Takes Law Abolishing Election Of Regional Leaders To Court