But even before the talks hosted by Chancellor Angela Merkel, violent protests have broken out in the nearby German city of Rostock -- a sign of possible further unrest at the G8 summit, where demonstrators are again expected to be out in force to protest against U.S. President George W. Bush, Russian President Vladmir Putin, and other world leaders.
Clashes between protesters and German police in the northern city of Rostock on June 2-3 left some 1,000 people injured.
While climate change and competing U.S. and German proposals over how to tackle it are at the top of Merkel's agenda, talks between the U.S. President Bush and Russian President Putin are likely to steal the headlines.
Police spokesman Achim Ridder said the violence involved only a small number of the 20,000 protesters, but he added that many of the injured were police officers.
"Altogether we have 433 injured police officers, 30 of them seriously injured," Ridder said. "There were 125 people arrested for violence; 52 have been released again. There were two more burned cars this morning, in the early hours. So altogether three cars were burned. It was an escalation of violence that we hadn't expected but also that we hadn't feared."
If anything, the clashes may have better prepared police and world leaders for what to expect during the G8 summit, which takes place June 6-8 in nearby Heiligendamm.
Contentious Issues
Leaders gathering in that Baltic resort have a full agenda of issues to discuss. They include issues on which disagreement is sharp, such as climate change, a controversial U.S. missile defense system in Europe, and the status of the breakaway Serbian province of Kosovo.
While climate change and competing U.S. and German proposals over how to tackle it are at the top of Merkel's agenda, talks between the U.S. President Bush and Russian President Putin are likely to steal the headlines.
U.S.-Russian relations have already frayed in recent months, partly over U.S. plans to erect a missile-defense system in the Czech Republic and Poland.
Putin has reacted angrily to the plans. On June 3, he reiterated his opposition and again warned that Russia would take steps to counter the U.S. system.
"If a new missile-defense system will be deployed in Europe, then we need to warn you today that we will come with a response," Putin said. "We have to ensure our security, and we are not the initiator of this process."
In a clear message to Putin that he won't be intimidated, Bush will pay visits before and after the summit to Prague and Warsaw to underscore his support for the U.S. system and for the thriving democracies in countries that were once Soviet satellites.
Stephen Hadley, Bush's national security adviser, on June 1 made it clear that Bush is keenly focused on democratization -- and that Washington has problems with the lack of it recently in Russia:
"The president has been very clear that, while it is clear that Russia's future is in its hands, we believe, obviously for Russia or for any other nation, that true stability and prosperity comes when nations give their people economic freedom and build the institutions of an enduring democracy," Hadley said. "That's our belief, and we've been very clear about that. That's part of the freedom agenda that the president's talked to many nations about that."
Washington and Moscow are also at odds over Kosovo. The European Union and the United States both back a United Nations plan to give the Serbian province a form of internationally supervised independence, but Russia -- allied with Serbia -- opposes the proposal.
Focus On Climate Change
The summit is also expected to discuss reviving global trade talks, but climate change is likely to garner more attention.
"There is now broad agreement that climate change is a huge challenge, that it's man-made and that urgent and extensive action is necessary," European Commission President Jose Manuel Barroso said last week. "All the scientific evidence confirms that."
Under Merkel, Germany, which currently holds the EU's rotating Presidency, has wanted the G8 summit to adopt a global commitment to reducing greenhouse-gas emissions by 20 percent from their 1990 levels by 2020. In the longer term, the EU is seeking to reduce global average temperatures by 2 degrees centigrade by 2050 -- which would require a 50 percent drop in emissions compared to 1990 levels.
It was never clear whether the United States would back the EU's plans, which are supposed to be negotiated under the aegis of the UN.
A surprise proposal by Bush last week has further complicated the diplomatic equation.
"The United States will work with other nations to establish a new framework on greenhouse-gas emissions for when the Kyoto Protocol expires in 2012," Bush said on May 31. "So, my proposal is this: By the end of next year, America and other nations will set a long-term global goal for reducing greenhouse gases."
That has left EU leaders with a major gap to bridge but no clear ways to do it. British Prime Minister Tony Blair repeated on June 3 that the summit should commit to the UN-led Kyoto process on climate.
For her part, Merkel, the summit host, has said that Bush's proposal provides "common ground on which to act." She also said it is positive that the United States, which has long shunned global climate-change efforts such as Kyoto, now recognizes that "nobody can ignore the question of climate change."
But whether G8 leaders agree on anything more concrete than that -- as well as on other issues, such as European security and Kosovo -- remains to be seen.
Global Climate Change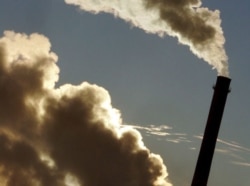 View a photo gallery summarizing some key findings of the Stern report on the economic costs of global warming (epa)

THE STERN REPORT: In October, former World Bank chief economist Sir Nicholas Stern issued a 700-page report on the economic impact of global warming. The report, which was commissioned by the British government, estimates that climate change could cost between 5 and 20 percent of global GDP by the end of the century....(more)
RELATED ARTICLES
Siberia's Once Frozen Tundra Is Melting
Blair Highlights Global-Warming Concerns
Scientists Argue About Need For Urgent Action
ARCHIVE
RFE/RL's
coverage of the environment
.