On a visit to Sofia today, Bush reiterated that "America believes that Kosovo ought to be independent." In Tirana on June 10, Bush said he does not support "endless dialogue" over Kosovo's future status.
The U.S. president's comments, which left little room for misinterpretation, are reverberating not only in Belgrade and Pristina, but in other breakaway regions and so-called frozen-conflict zones -- Chechnya, Abkhazia, South Ossetia, Nagorno-Karabakh, and Transdniester.
Russian President Vladimir Putin has repeatedly linked the Kosovo issue to the other frozen conflicts where Moscow exerts influence -- Transdniester, South Ossetia, Abkhazia, and Nagorno-Karabakh.
"Outraged" -- that's how Serbian Prime Minister Vojislav Kostunica reacted today to U.S. Bush's support for an independent Kosovo.
In a statement broadcast on national television today, Kostunica said the United States is making a "mistake" with its "one-sided support." He said an independent Kosovo would present a "new injustice and bullying that the Serb people would never forget."
Kostunica said "America must find another way to show its affection and love for the Albanians, without offering them Serb territories."
Serbian Foreign Minister Vuk Jeremic was more measured in his comments to reporters in Belgrade on June 10.
"If the UN resolution on Kosovo was now on the table at the UN Security Council, it's rather certain it would not get adequate support, i.e. it wouldn't be adopted," Jeremic said. "Countries that are pushing for a resolution to be adopted soon are concerned about consequences if the plan is not approved. So we are entering a stage of huge uncertainty. Our position is -- let us continue negotiations on the future status of Kosovo, which is the way out from this stalemate."
'A Very Clear Message'
In Kosovo, Bush's statements were hailed as unequivocal support for statehood.
In comments made to RFE/RL's South Slavic and Albanian Languages Service on June 10, following Bush's visit to Tirana, Kosovar Prime Minister Agim Ceku said Pristina had never doubted the engagement of the United States on the issue.
"President Bush gave a very clear message," Ceku said. "In a way, he declared Kosovo's independence. I have some information from the meetings he held in Albania, and his message is very clear -- Kosovo's people need to stay calm, and the result of this process will be Kosovo's independence, as the only real and pragmatic solution. And the time for it is now. "
Kosovar President Fatmir Sejdiu said June 10 was a historic day for Kosovo, as well as for Albania, which saw the first visit by a sitting U.S. president.
In Tirana, Sejdiu said, Bush summed up the view of Washington and its Western allies -- that Kosovo's independence is "inevitable."
The head of Kosovo's opposition Democratic Party of Kosovo, Hashi Thaci, called on the United Nations to heed Bush's words and approve a resolution on Kosovo's independence "as soon as possible."
A plan put forward by UN special envoy Martti Ahtisaari -- supported by the United States, but opposed by Russia -- would give Kosovo a form of internationally supervised independence.
No Analogy?
Georgian Prime Minister Zurab Noghaideli, on a visit to RFE/RL's Prague broadcast center today, said the status of Kosovo cannot be compared with the situations in its breakaway republics of Abkhazia and South Ossetia.
"I strongly believe that there is no possibility, no way, to draw these parallels and to repeat this precedent," he said. "And I have no doubt that Abkhazia's and South Ossetia's conflicts are going to be resolved peacefully, in the framework of the territorial integrity of Georgia."
He said the future of Abkhazia can "only be decided by the whole prewar population of Abkhazia, not only by those who have managed to ethnically cleanse the region and are claiming independence right now."
Putin's Position
Russian President Vladimir Putin has repeatedly linked the Kosovo issue to the other frozen conflicts where Moscow exerts influence -- Transdniester, South Ossetia, Abkhazia, and Nagorno-Karabakh.
Chechen separatist envoy Akhmed Zakayev said he believes Putin doesn't want to be held responsible for a UN decision on Kosovo's future, but that once its status is decided, he will use it for his own ends.
"Putin understands that in order to formalize legally the de facto annexation of these republics -- from Moldova to Georgia -- he needs precisely the Kosovo precedent, and he will get it," Zakaev told RFE/RL's North Caucasus Service from London today.
Artyom Ulunyan is a professor at the Russian Academy of Sciences' Institute of Universal History in Moscow and an expert on Central Asia and the Balkans. In an interview today with RFE/RL's Russian Service, Ulunyan said 2007 appears to be Kosovo's year. He said the sooner a decision is made on Kosovo's final status, the better.
"This is quite a delicate issue that touches the ethnic feelings of many peoples who, in one way or another, are connected with the Kosovo issue," he said. "But from the point of view of political realities, the question of Kosovo's independence requires an urgent resolution and any delay would have an impact on relations inside the region, relations among Europeans, Europe's relations with Russia, with the United States, and with the Balkans."
Vefa Guluzade is a political scientist in Azerbaijan and was an adviser to former President Heydar Aliyev. In an interview with RFE/RL's Azerbaijani Service today, he said no link can be made between independence for Kosovo and the situation in Nagorno-Karabakh.
"Nagorno-Karabakh is occupied by Armenians together with Russians," Guluzade said. "It is aggression, and it must be stopped. That is why there is no similarity between Kosovo and Nagorno-Karabakh. Vladimir Putin wants to use it against American actions in Kosovo, but he is wrong."
In an interview with RFE/RL's Armenian Service, Vladimir Karapetian, a spokesman for Yerevan's Foreign Ministry, declined to comment on Bush's statements.
Building Democracy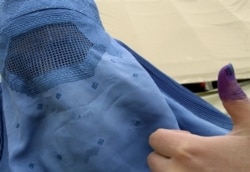 An Afghan woman votes in Kandahar in October 2004 (AFP)
ROWING AGAINST THE TIDE:
National Endowment for Democracy President Carl Gershman and Hudson Institute Senior Fellow John O'Sullivan led an RFE/RL briefing about U.S. efforts to promote democracy around the world, and especially in the Middle East.
LISTEN
Listen to the entire briefing (about 55 minutes):

Real Audio
Windows Media
RELATED ARTICLES
U.S. Reports On Democracy-Promotion Efforts
Is Bush Abandoning Democracy Building In Iraq?
Karen Hughes Urges Dialogue Based On 'Common Values'
SUBSCRIBE
For a regular review of civil-society developments throughout RFE/RL's broadcast region,
subscribe to "RFE/RL (Un)Civil Societies."