Ban told a news conference in Brussels that further delays will not only undermine stability in the Western Balkans, but could also put at risk the EU's unity on the issue.
"I am concerned that we have not been able to take any action on this as much as we had hoped," he said. "Any further delay or prolongation on this very important issue will have a very negative impact on all peace and security, not only in Kosovo, not only in the Balkans, but [the] whole European situation."
Solana also warned that the search for a compromise should not become an "open-ended process."
Ban said the EU's leadership on Kosovo remains "fundamentally important." The EU has promised both Serbia and Kosovo eventual membership.
Splits Within The EU
However, Greece and Cyprus are known to be sympathetic to Serbia. Both are Greek Orthodox, like Serbia, and also fear a dangerous precedent for Cyprus, currently split into Greek and Turkish communities. Spain with its internal divisions is also thought to have similar concerns.
A shared Slavic heritage with Serbia is an important factor for some eastern EU member states.
Bulgaria, Romania, and Slovakia also have a wary eye on the generous provisions for the protection of Kosovo's Serb minority which would be imposed on Kosovo should it gain independence. This could lead the Turkish minority in Bulgaria and Hungarian minorities in Slovakia and Romania to seek similar status.
So far, the EU has remained outwardly united in its backing for Kosovo's independence. On July 6, European Commission President Jose Manuel Barroso turned up the pressure on Serbia, telling Serbian President Boris Tadic after a meeting in Brussels that his country's ambitions to join the EU are conditional on a "sustainable" solution to the issue. EU leaders have made it clear Kosovo cannot remain part of Serbia. Tadic repeated Serbia's rejection of an independent Kosovo.
Russia, with the tacit support of China, has said it will use its UN Security Council veto to block any resolution that is not supported by Serbia.
A Big Diplomatic Push
Intensive mediation efforts were under way today, as Ban met Kosovar President Fatmir Sejdiu before holding talks with EU foreign policy chief Javier Solana.
Solana will later today meet with Serbian Foreign Minister Vuk Jeremic. U.S. Assistant Secretary of State Daniel Fried was in Kosovo on July 9 and is in Belgrade today.
The stakes were upped on July 8, when former Kosovo Liberation Army leaders hinted they are ready to resume armed struggle if Kosovo's independence is delayed.
Solana said today the EU backs plans to give Serbian and Kosovar leaders another 120 days for further talks. He said that without a UN Security Council decision, the EU can not assume a supervisory role in Kosovo.
"We are ready," Solana said. "We are prepared to deploy [an] ESDP [European Security and Defense Policy] mission [of about 1,600 police officers and other personnel] for security, the rule of law. And [we are ready for economic] cooperation. But for that, we need a UN Security Council resolution, and I hope very much that in this process that has been opened, another period of time will be available for discussion between the two sides and that at the end of that a resolution will be approved in the Security Council."
However, Solana also warned that the search for a compromise should not become an "open-ended process."
NATO has said its forces can remain in Kosovo indefinitely under existing UN Security Council resolutions.
Final Status For Kosovo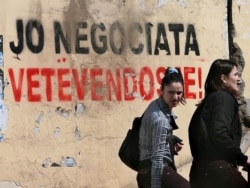 Pro-independence graffiti in Prishtina (epa)

FINALLY STATUS? Sabine Freizer, director of the Crisis Group's Europe Program, told an RFE/RL briefing that deep divisions in the UN Security Council make it uncertain what form Kosovo's future status might take.
LISTEN
Listen to the entire briefing (about 70 minutes):

Real Audio
Windows Media
ARCHIVE
RFE/RL's coverage of
Kosovo
. The website of
RFE/RL's South Slavic and Albanian Language Service
.