The EU's envoy to Kosovo, Stefan Lehne, delivered the warning June 21, shortly after Russia rejected a revised UN Security Council resolution that would delay independence for Kosovo to give the province's ethnic-Albanian majority and Serbs more time to negotiate the future status of the Serbian territory.
Lehne, on a visit to Kosovo's capital, Pristina, said it "would be a huge step backwards" and could erase international goodwill toward Kosovo if ethnic-Albanian leaders were to take the independence issue into their own hands.
(Reuters)

Moscow And Washington: Toe To Toe
Moscow And Washington: Toe To Toe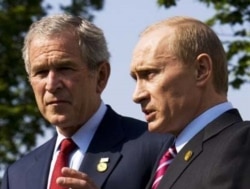 U.S. President George W. Bush (left) and Russian President Vladimir Putin at the G8 summit in Germany on June 7 (AFP)

MOUNTING TENSIONS. Relations between Russia and the United States have grown increasingly tense in recent months as issues like missile-defense, Kosovo's status, and Russia's domestic policies have provoked sharp, public differences. On June 5, U.S. President George W. Bush said democratic reforms in Russia have been "derailed"....(more)
RELATED ARTICLES
Silent Diplomacy Versus Public Criticism
Analysts Say New Arms Race Unlikely
Moscow's Patience With U.S., Allies 'Wearing Thin'
Russian Parliament Accuses U.S. Of Election Meddling
MORE: A special archive of RFE/RL's coverage of U.S.-Russian relations.