Russia's UN ambassador, Vitaly Churkin, is quoted as saying the new draft is "unacceptable" to Moscow.
The new text, drafted by the United States and European Union countries, would give Serbs and ethnic Albanians four more months to try to reach a mutually acceptable agreement on Kosovo's future.
The draft also demands that the "parties refrain from making any unilateral declarations regarding final status during that period."
No date has been set for a vote.
The original document would have endorsed internationally supervised independence for Kosovo without any delay.
Russia, a traditional ally of Serbia and a veto-wielding Security Council member, has strongly objected to the original draft.
(AP, ITAR-TASS)

Moscow And Washington: Toe To Toe
Moscow And Washington: Toe To Toe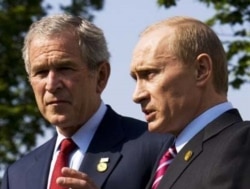 U.S. President George W. Bush (left) and Russian President Vladimir Putin at the G8 summit in Germany on June 7 (AFP)

MOUNTING TENSIONS. Relations between Russia and the United States have grown increasingly tense in recent months as issues like missile-defense, Kosovo's status, and Russia's domestic policies have provoked sharp, public differences. On June 5, U.S. President George W. Bush said democratic reforms in Russia have been "derailed"....(more)
RELATED ARTICLES
Silent Diplomacy Versus Public Criticism
Analysts Say New Arms Race Unlikely
Moscow's Patience With U.S., Allies 'Wearing Thin'
Russian Parliament Accuses U.S. Of Election Meddling
MORE: A special archive of RFE/RL's coverage of U.S.-Russian relations.