Ban said in Geneva that further delays to a UN Security Council vote on the Serbian province's future will be undesirable.
He said he hopes the meetings between Bush and Putin, which began at the Bush family's estate in Maine on July 1 and conclude today, "will find a good solution to this issue."
Last month, Russia rejected a revised UN Security Council resolution that would delay independence for Kosovo to give the province's ethnic-Albanian majority and minority Serbs more time to negotiate the future status of the Serbian territory.
The new text, drafted by the United States and European Union countries, would give Serbs and ethnic Albanians four more months to try to reach a mutually acceptable agreement on Kosovo's future.
The draft also demands that the "parties refrain from making any unilateral declarations regarding final status during that period." No date has been set for a vote.
The original document would have endorsed internationally supervised independence for Kosovo without any delay.
Russia, a traditional ally of Serbia and a veto-wielding Security Council member, has strongly objected to the original draft.
(Reuters, AP)
Final Status For Kosovo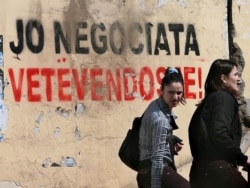 Pro-independence graffiti in Prishtina (epa)

FINALLY STATUS? Sabine Freizer, director of the Crisis Group's Europe Program, told an RFE/RL briefing that deep divisions in the UN Security Council make it uncertain what form Kosovo's future status might take.
LISTEN
Listen to the entire briefing (about 70 minutes):

Real Audio
Windows Media
ARCHIVE
RFE/RL's coverage of
Kosovo
. The website of
RFE/RL's South Slavic and Albanian Language Service
.