EU Links Serbia's 'Strategic Relations' To Kosovo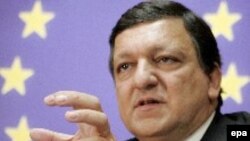 European Commission President Jose Manuel Barroso (file photo) (epa) BRUSSELS, July 6, 2007 (RFE/RL) -- The president of the European Commission, Jose Manuel Barroso, told visiting Serbian President Boris Tadic in Brussels today that Serbia cannot join the EU if the standoff over the future status of Kosovo is not resolved.
"We are not linking -- I want to make it clear -- we are not linking the [ongoing] Stabilization and Association Agreement negotiations with Kosovo," Barroso said. "But when we think about strategic relations between Serbia and Europe [then], of course, if this issue is not solved, it will create a lot of problems. This is obvious. We will not be able to achieve what is, I think, our strategic goal, [which] is to have, one day, Serbia as a full member of the European Union."
The EU backs a plan that would give the breakaway Serbian province supervised independence. Tadic today repeated Serbia will not accept Kosovo's independence.