Bako Sahakian, the former chairman of Nagorno-Karabakh's National Security Service, is backed by the unrecognized, separatist republic's ruling party, its two major opposition parties, and has a healthy lead in the polls.
And perhaps more importantly, most observers say Sahakian -- who made his career in the Soviet KGB -- also enjoys tacit backing from authorities in Armenia and Russia.
Legality Disputed
A delegation of the Armenian parliament is due to arrive in Nagorno-Karabakh today to monitor the elections. Azerbaijan has condemned the Nagorno-Karabakh elections as illegal and illegitimate.
"Azerbaijan's position is firm and has not changed," Azerbaijani Foreign Ministry spokesman Khazar Ibrahim told RFE/RL's Azerbaijani Service this week. "These so-called elections are illegal with no legal effect. At the same time, any elections in the future can be just and legal only if they are conducted within the Constitution of Azerbaijan, within the norms and principles of international law, and with the inclusion of the Azerbaijani community."
"These authorities are elected and that is better than not having anybody in power at all in Nagorno-Karabakh. If there were not elections, if there was anarchy there, it would be worse." -- political commentator Abramian


The predominantly ethnic-Armenian region of Nagorno-Karabakh lies within Azerbaijan's borders. Armenia and Azerbaijan fought a war over the region from 1988 until a 1994 cease-fire was brokered. The conflict has been frozen ever since, and negotiations continue on its future status.

The Organization for Secuirty and Cooperation in Europe (OSCE) -- like the rest of the international community -- does not recognize Nagorno-Karabakh and therefore considers the elections to be illegitimate.

Harri Kamarainen, the head of the Caucasus Department at the OSCE's Conflict Prevention Center, says that the issue of the elections has come up in discussions between Armenian and Azerbaijan -- where it has proven to be an irritant.

"The fact that elections take place and the authorities in Karabakh organize these is somewhat of an irritating factor for the Azerbaijani side," Kamarainen says.
NATO spokesman James Appathurai today said that the alliance, "like other international organizations," will not recognize any polls held by the breakaway region.

Aram Abramian, a political commentator and editor in chief of the Yerevan-based daily newspaper "Aravot," says however that the elections will have little effect on the peace process itself since authorities in Nagorno-Karabakh are not party to the negotiations.

"Under the current negotiating format he [the Nagorno-Karabakh president] will not participate," Abramian says. "Everything depends on the presidents of Armenia and Azerbaijan. Therefore, at this stage, in any case, the role of the leadership in Nagorno-Karabakh is of secondary importance."

Resolution Sought

On July 13, the French, Russian, and U.S. co-chairs of the OSCE Minsk Group, which seeks to mediate a resolution to the Nagorno-Karabakh conflict, called on Armenian President Robert Kocharian and Azerbaijani President Ilham Aliyev to prepare for a new summit "at the first opportunity."

The two last met on the sidelines of an informal CIS summit in St. Petersburg in June.

Sahakian's main challenger for the presidency is Deputy Foreign Minister Masis Maylian. Other candidates include parliament deputy Armen Abgarian; Nagorno-Karabakh Communist Party leader Hrant Melkumian; and Vanya Avanesian, a professor at Artsakh State University.

Maylian has accused Nagorno-Karabakh authorities of favoring Sahakian's candidacy over the others.

Incumbent Arkady Ghukasian cannot run in the election, having served the maximum two terms.

Elections with predictable -- or even preordained, as some have alleged -- results are commonplace in frozen-conflict zones.

In the past eight months, three other breakaway regions in the former Soviet Union -- South Ossetia and Abkhazia in Georgia, and Transdniester in Moldova -- have held either parliamentary or presidential elections.

And in each case there were no surprises. Candidates or parties backed by the local separatist elite -- and their patrons in Moscow -- won by overwhelming margins.

Abramian says the trend reflects a general pattern not just in conflict zones but in much of the former Soviet Union where manipulated elections increasingly serve as tool to legitimize the ruling political clan.

"It is completely clear who will win this election," Abramian says. "I don't really like this Chekist [eds: former member of the Soviet KGB] who will be the president. But on the other hand, this is not a problem [only] of Nagorno-Karabakh. It is a reflection of all the regimes in the CIS, including those that are [internationally] recognized."

Frozen Status

Abramian added that the election will neither improve nor harm the situation in Nagorno-Karabakh.

"In Nagorno-Karabakh there needs to be some kind of authority," Abramian notes. "This authority must either be elected, appointed, or inherited. These authorities are elected and that is better than not having anybody in power at all in Nagorno-Karabakh. If there were not elections, if there was anarchy there, it would be worse. This way it won't be better and it won't be worse."

Polls are due to be open on July 19 from 8 a.m. to 8 p.m. local time.
The Nagorno-Karabakh Conflict
The Nagorno-Karabakh Conflict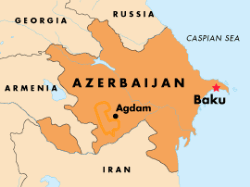 Click on the image to view an enlarged map of the Nagorno-Karabakh conflict zone

In February 1988, the local assembly in Stepanakert, the local capital of the Azerbaijani region of NAGORNO-KARABAKH, passed a resolution calling for unification of the predominantly ethnic-Armenian region with Armenia. There were reports of violence against local Azeris, followed by attacks against Armenians in the Azerbaijani city of Sumgait. In 1991-92, Azerbaijani forces launched an offensive against separatist forces in Nagorno-Karabakh, but the Armenians counterattacked and by 1993-94 had seized almost all of the region, as well as vast areas around it. About 600,000 Azeris were displaced and as many as 25,000 people were killed before a Russian-brokered cease-fire was imposed in May 1994.
CHRONOLOGY: For an annotated timeline of the fighting around Nagorno-Karabakh in 1988-94 and the long search for a permanent settlement to the conflict, click here.

Click on the icon to view images of the Nagorno-Karabakh conflict (Flash required)
To view an archive of all of RFE/RL's coverage of Nagorno-Karabakh,
click here.