Armenian Ambassador Armen Smbatian and Azerbaijani Ambassador Polad Byulbyulogly, together with a group of cultural figures and academics from both countries, traveled on June 28 first to Nagorno-Karabakh and thence to Yerevan.
In Stepanakert, the group met with Karabakh President Arkady Ghukasian, who was quoted as saying that all disputed issues should be resolved at the negotiating table, and nothing can be resolved by a new war.
Armenian President Robert Kocharian received the delegation in Yerevan, where he welcomed the initiative as contributing to an "atmosphere of mutual trust," and his Azerbaijani counterpart, Ilham Aliyev, received the delegation in Baku, where he reaffirmed that any solution to the Karabakh conflict must respect Azerbaijan's territorial integrity.
The visits mark a warming in relations between the two countries, which have been locked in a bitter dispute over Nagorno-Karabakh. That predominantly ethnic Armenian enclave broke away from Azerbaijan in 1988, triggering six years of fighting that killed more than 30,000 people.
(with material from Reuters)
The Nagorno-Karabakh Conflict
The Nagorno-Karabakh Conflict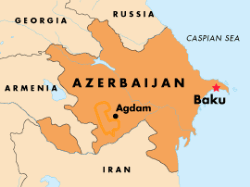 Click on the image to view an enlarged map of the Nagorno-Karabakh conflict zone

In February 1988, the local assembly in Stepanakert, the local capital of the Azerbaijani region of NAGORNO-KARABAKH, passed a resolution calling for unification of the predominantly ethnic-Armenian region with Armenia. There were reports of violence against local Azeris, followed by attacks against Armenians in the Azerbaijani city of Sumgait. In 1991-92, Azerbaijani forces launched an offensive against separatist forces in Nagorno-Karabakh, but the Armenians counterattacked and by 1993-94 had seized almost all of the region, as well as vast areas around it. About 600,000 Azeris were displaced and as many as 25,000 people were killed before a Russian-brokered cease-fire was imposed in May 1994.
CHRONOLOGY: For an annotated timeline of the fighting around Nagorno-Karabakh in 1988-94 and the long search for a permanent settlement to the conflict, click here.

Click on the icon to view images of the Nagorno-Karabakh conflict (Flash required)
To view an archive of all of RFE/RL's coverage of Nagorno-Karabakh,
click here.