RFE/RL's Russian Service spoke
to Svetlana Gannushkina, the chairwoman of Russia's Civic Assistance
human-rights group, about Russia's extradition policy.
The Russian Constitution prevents the extradition of Russian citizens, but Gannushkina says that hasn't stopped Russia from doing it in the past:
"Our citizens have already been extradited on several occasions, although quite often Russia, perhaps to justify its actions, revoked their Russian citizenship post factum or expressed doubts that they even had" Russian citizenship, Gannushkina says.
Central Asian Suspects
"As far as I know, the first time it happened was in 2002 when Murad Garabaev was extradited [to Turkmenistan]. He held dual Russian-Turkmen citizenship and was extradited at Turkmenistan's request," she adds. "He was later returned to Russia, however, after the involvement of the European Court [of Human Rights] and the active assistance of lawyers."
Murad Garabaev was one of the suspects in the theft of $41.5 million from Turkmenistan's central bank. Russian police detained Garabaev, a former employee of the central bank, in Moscow shortly after the theft was made public.
Gannushkina says that there are many similar cases. "In 2005, Alisher Usmanov, a Russian citizen, was even abducted as he was leaving prison after serving a term for a minor offense," she notes. "He was abducted by secret services and sent to Uzbekistan, where he was sentenced to eight years in prison. Russia did not make an attempt to bring him back and showed no interest in the fate of this person. And there are many cases like that. Usually they have to do with this kind desire to please [Uzbek President Islam] Karimov."
Complex Legal Issues
In this case, Russia does not look as if it is aiming to please Britain. Russia has said it is prepared to put Lugovoi on trial in Russia, but Britain has rejected the offer.
British investigators have said they believe it was Lugovoi who administered a fatal dose of highly radioactive polonium-210 -- and left traces of the toxic substance on airplanes and in numerous locations in London and Germany.
The legal situation is complex -- with Russian officials invoking both domestic and international legislation to support their case.
"If international treaties set rules that are different from Russian legislation, then priority is given to international treaties. So I believe that in accordance with this article -- Article 15 Part 4 [of the Russian Constitution] -- in this case Russia would have to extradite its citizen who is accused of such a horrendous crime that is dangerous not only to one person but to society as a whole. It is clear that what was done against one person presented a threat to a vast number of people," Gannushkina says.
"That is absolutely unacceptable, and if there is compelling evidence [in favor of Lugovoi], no one is preventing Russian lawyers from defending Lugovoi, but if there are grounds for suspecting him, I think he should be extradited," she says.
To bolster its adherence to its constitutional stipulation that it cannot extradite its citizens, Russia is also citing the 1957 European Convention on Extradition, which says it is not obliged to do so in violation of national legislation.
Diplomatic Tussle
The Litvinenko affair has already damaged relations between Britain and Russia. This week, Britain announced that it will expel four Russian diplomats over Moscow's refusal to extradite Lugovoi.
In return. Russia has vowed to take "targeted" steps against Britain.
Russia today announced that it is to expel four British diplomats.
Russia has also argued that Britain has ignored more than 20 similar extradition requests from Moscow, including for Chechen separatist leader Akhmed Zakayev and self-exiled businessman Boris Berezovsky, a fierce critic of the Kremlin who has called for the overthrow of the current government in Russia.
Tit For Tat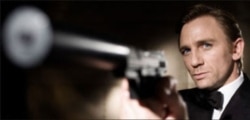 James Bond isn't the only character in Russia and Britain's history of espionage


UNDIPLOMATIC HISTORY
1960-71: 27 Soviet Embassy officials told to leave the United Kingdom.

1971: Britain expels 105 staffers of Soviet diplomatic missions for alleged spying. They are exposed by Oleg Lyalin, the first Soviet intelligence agent to defect since World War II. Russia responds by expelling 18 British Embassy staffers from Moscow.

1994: John Scarlett, now head of MI6, expelled from Moscow, where he was serving as an MI6 officer. In response Britain expels a Russian diplomat. Russian company manager Vadim Sintsov arrested for spying for Britain, is sentenced to 10 years of hard labor.

1995: Britain expels 25 alleged Soviet spies; USSR follows by expelling 25 Britons.

1996: Russia expels nine British diplomats it claims are running a spy ring. Britain responds by throwing out four Russians.

2000: Junior Russian diplomat Platon Obukhov, the son of a former Soviet deputy foreign minister, sentenced to 11 years in prison for spying for Britain. Verdict is overturned by Russian Supreme Court.

2004: Weapons expert Igor Sutyagin convicted of treason and passing classified military information to a British company alleged to be a front for the CIA. Sentenced to 15 years in prison.

2006: Russia accuses four British Embassy employees of conducting an espionage operation that included the use of a "spy rock." Russia chooses not to expel the four.
RELATED ARTICLES
Lugovoi Says Litvinenko Was British Spy
Russia's FSB Opens Probe Into Alleged MI6 Activity