Moldova Marks 15-Year Anniversary Of Transdniester Cease-Fire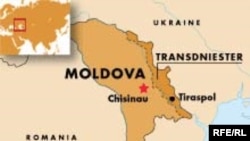 (RFE/RL) July 21, 2007 (RFE/RL) -- Moldova today marks the 15th anniversary of the 1992 cease-fire agreement ending a war between Moldovan and separatist forces in its breakaway region of Transdniester.
Mircea Snegur and Boris Yeltsin, then presidents of Moldova and Russia respectively, signed the document ending the fighting, which left several hundred people dead.
A final settlement on Transdniester, home to an ethnic-Russian majority, has yet to be reached.
Chisinau continues to call for the withdrawal of Russian troops and armaments still based in the region.
The Transdniester Conflict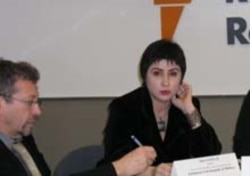 Stela Jantuan, head of the Information, Analysis, and Prognosis Service of the Moldovan parliament (RFE/RL)

FROZEN CONFLICT: On January 11, 2006, RFE/RL's Washington office hosted a panel discussion on prospects for settling the Transdniester conflict. The roundtable featured STEFAN GLIGOR and STELA JANTUAN of the Information, Analysis, and Prognosis Service of the Moldovan parliament and ALEXANDRU FLENCHA, head of the information and analysis division of Moldova's Ministry of Reintegration.
LISTEN
Listen to the complete panel discussion (about 90 minutes):

Real Audio
Windows Media
TALKS CONTINUE. The conflict between the Republic of Moldova and the unrecognized, separatist Transdniester Republic has festered for more than 15 years. A decade of talks supervised by the OSCE, Russia, and Ukraine have stagnated, while allegations mount concerning the involvement of Transdniester separatists in money-laundering and trafficking in arms, drugs, and human beings. What are the current prospects for settling this frozen conflict? (more)
ARCHIVE
An archive of RFE/RL's coverage of Transdniester.