OSCE Dismisses Nagorno-Karabakh Presidential Election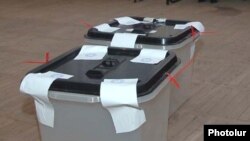 The OSCE says it doesn't recognize the ballot boxes (Photolur) July 21, 2007 -- The Organization for Security and Cooperation in Europe (OSCE) said on July 20 that it does not recognize the independence of Nagorno-Karabakh and that the election of Bako Sahakian as president of the self-proclaimed, breakaway republic "should not have any impact" on resolving the frozen conflict.
Spanish Foreign Minister Miguel Angel Moratinos made the statement about the election on July 19.
Spain currently holds the rotating presidency of the OSCE.
(AFP)