Putin signed a decree on July 14 suspending Russia's participation in the Conventional Forces in Europe (CFE) pact, which limits military deployments on the continent.
He said today that the treaty, originally signed in 1990, "has clearly come to contradict reality."
"The original treaty came from the time when there were two blocs, NATO and the Warsaw Pact. Now, most of the East European countries are members of NATO," Putin said. "The Baltic states and some of the Balkan countries have not signed the amended treaty at all. Under the old version of the treaty the three Baltic states are viewed as the [Soviet] Baltic Military District. Should I perhaps appoint one of you as their district commander?"
The treaty was revised in 1999 to reflect the end of the Cold War.
(AFP, Interfax)
Moscow And Washington: Toe To Toe
Moscow And Washington: Toe To Toe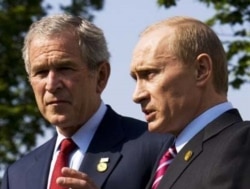 U.S. President George W. Bush (left) and Russian President Vladimir Putin at the G8 summit in Germany on June 7 (AFP)

MOUNTING TENSIONS. Relations between Russia and the United States have grown increasingly tense in recent months as issues like missile-defense, Kosovo's status, and Russia's domestic policies have provoked sharp, public differences. On June 5, U.S. President George W. Bush said democratic reforms in Russia have been "derailed"....(more)
RELATED ARTICLES
Silent Diplomacy Versus Public Criticism
Analysts Say New Arms Race Unlikely
Moscow's Patience With U.S., Allies 'Wearing Thin'
Russian Parliament Accuses U.S. Of Election Meddling
MORE: A special archive of RFE/RL's coverage of U.S.-Russian relations.