Shuhrat Diyorov, 52, had two more years left to serve of a nine-year prison term when he died.
Diyorov was convicted in 2000 on several charges, including attempting to overthrow Uzbekistan's constitutional order, a conviction that is frequently handed down to members of banned organizations.
On July 18, more than two years after the last time they were allowed to visit him, Diyorov's family received a telephone call from a police officer to inform them of his death. The officer said the body would be delivered within two hours and asked the family to prepare a quick and secret burial.
"In my opinion and in the opinion of his relatives and children, it
would have been possible to cure him [Diyorov] if they had been informed [of his
condition] in time."
Dilorom Isoqova, a close friend of Diyorov's mother, says the family "heard in the past he was in a bad condition. Then the body was sent here. It was even followed by a phone call. [The police] threatened [us] by saying that nobody should be allowed [to have contact with the body] and only relatives would be given 10 minutes to see it and pay their respects. They said the burial should take place before dawn. 'But don't tell anyone, otherwise you will have troubles,' they said."
An officer from the Uzbek Interior Ministry's penal department contacted by RFE/RL on July 19 said he had no knowledge of Diyorov's death.

'Diyorov Could Have Been Saved'
The head of the independent human rights group Ezgulik, Vasila Inoyatova, met with Diyorov family members after the burial. She says the family was asked to sign a statement that listed tuberculosis as the cause of death.
Inoyatova says Diyorov contracted tuberculosis in prison, prompting authorities to disallow family visits for the past 2 1/2 years in light of the highly contagious nature of his form of TB.
Tuberculosis is a bacterially transmitted disease frequently spread by coughing and sneezing. Common tuberculosis is curable with a six-month drug regimen that costs around $300. But if it is not treated in time, the bacteria can mutate into another form, a multidrug-resistant tuberculosis, that requires a longer and far more expensive treatment (around $4,500).
It is unclear which form of tuberculosis Diyorov suffered from. Inoyatova quotes the family as saying that Diyorov weighed half of his pre-prison weight at the time of his death.
"In my opinion and in the opinion of his relatives and children, it would have been possible to cure him if they had been informed [of his condition] in time," Inoyatova says. "Shuhrat Diyorov's death was caused by malnutrition, a lack of medicine, and a lack of treatment."
TB Widespread In Uzbek Prisons
Independent rights activists say tuberculosis is particularly widespread among Uzbek prison inmates, and prisons are considered the epidemiological pump behind the high rate of tuberculosis in the country.
Uzbekistan's penal system is a closed realm. Officials provide no statistics on the size of the prison population, but some sources estimate it at up to 65,000. There are no reliable figures on the TB infection rate among convicts.
International health and other groups are granted virtually no access to Uzbek prison facilities. Uzbek Foreign Minister Vladimir Norov vowed in November 2006 that the country would open up its prisons to such groups.
Since then, the International Committee of the Red Cross (ICRC) is among the monitoring groups that have tried unsuccessfully to visit Uzbek prison facilities. The ICRC's Pierre-Emmanuel Ducruet told RFE/RL's Uzbek Service on July 20 that negotiations with Uzbek authorities have been "very long" and brought "no changes."
An official with the Uzbek Health Ministry, Olimjon Magdaliev, who was contacted by RFE/RL declined to provide any information on tuberculosis in prison facilities or anywhere else in the country.
The chairman of the Center for Human Rights Initiatives in Tashkent, Surat Ikromov, says he has a lot of anecdotal evidence suggesting a high TB death rate among convicts, many involving the Sangorod medical prison near the capital.
"There have been several cases of prisoners being released when they were near death and dying at home a week or two after their release," Ikromov, says. "There have been many more cases in which nearly dying prisoners were taken to Sangorod, where they subsequently died and [then] the bodies were given to the families. In general, the number of those who catch tuberculosis in prison and die is very high."
Aid Not Taken
The Geneva-based Global Fund to Fight AIDS, Tuberculosis, and Malaria has worked with the Uzbek government and international groups like the World Health Organization (WHO), the World Bank, and the U.S. Agency for International Development to fight tuberculosis in Uzbekistan, including in its prisons.
The Global Fund's Valery Chernyavskiy says 1,816 Uzbek convicts received what's called "directly observed treatment-short course" (DOTS) in 2006. DOTS is a WHO-recommended method for curing a conventional form of tuberculosis. Nearly 63 percent of those inmates made full recoveries.
Chernyavskiy's group reports that just $54,000 of a reported $6 million grant to implement a DOTS-based tuberculosis program in Uzbekistan went to eradicating the problem in the prison system.
Prison Care Inadequate
Uzbek law has stipulated since 2001 that all citizens, including convicts, should be provided with "protection from tuberculosis."
Two years after that law was approved, the government produced a five-year (2004-08) strategy aimed at reducing the morbidity and spread of tuberculosis. Under the program, treatment for tuberculosis was provided in 12 Uzbek prison colonies.
But witnesses and former inmates say the work of such hospitals is inadequate. They also say prisoners are forced to turn to family members to try and get potentially life-saving medicines, rather than to the prison administration. Former convicts also claim they had to bribe prison officials for admission to prison hospitals.
Chernyavskiy says that such a situation leads to the spread of drug-resistant tuberculosis among convicts. "The problem is the other -- more dangerous -- form of tuberculosis," he says. "Wrong treatment, irregularity in drug use, and bad control by medical staff leads to the formation of drug-resistant bacteria. That's a very serious and dangerous disease which very often is formed and incubated in penal facilities."
The problem essentially turns some convicts' prison sentences into death sentences.
But the risk does not stop there. Infected convicts who live to see their release dates are likely to spread tuberculosis among the general population.
That offers one more reason for concern in a country whose tuberculosis rate is the highest in the former Soviet Union, according to international nongovernmental organization Doctors Without Borders.
(RFE/RL's Uzbek Service contributed to this report.)
RFE/RL Reports On AIDS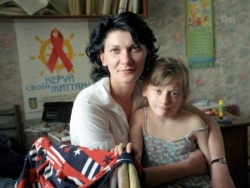 An HIV-positive Ukrainian woman and her daughter (epa)

FACES OF THE EPIDEMIC: HIV-infection rates continue to soar in many parts of RFE/RL's broadcast region, from Ukraine and Russia to Central Asia. RFE/RL frequently reports on the problems associated with the pandemic and efforts to combat them.
RELATED ARTICLES
China Steps Up Fight Against Spreading Epidemic
Iranian Brothers Change The Face Of HIV, Drug-Addiction Treatment
Drug-Treatment Effort Targets HIV/AIDS In Afghanistan
Tatarstan Clinic Is Bold Exception In Russia's HIV Battle
Fourteen Kazakh Children Infected With HIV In Hospitals
UNAIDS Head On Epidemic In CIS
Russia's 'Miss Positive' Puts Public Face On Battle With HIV/AIDS