"I want to know about God," says Lyuda, a 6-year-old girl living in Kirov Oblast. "It's interesting for me."
"If someone has an interest, it should be allowed as an elective course," says 17-year-old Lera, another Kirov resident. "Otherwise, I don't think it's an important subject. It's more unnecessary work."
In Belgorod, Kaluga, Bryansk, and Smolensk oblasts, high-school instruction in Russian Orthodoxy has become mandatory. In more than 10 other regions, it will be offered as an optional course.
Religious Resurrection
It's a development that highlights the growing influence of the Russian Orthodox Church, which has come out from under 70 years of Soviet-era repression and ignominy to reclaim its former glory as the country's dominant religion
It also addresses the desire of many Russians to restore a lost sense of national identity and pride. Some -- but not all -- of Kirov's adult residents say the basics of Orthodox culture is a welcome addition to school curricula.
"I think there's a need for it, because it's our culture. We're Russians and we shouldn't forget it."
"I think there's a need for it, because it's our culture. We're Russians and we shouldn't forget it," says Nastya, a university student. "If Russia adheres to it, we'll be better than others, and we'll be No. 1."
"In our time, we couldn't learn about the church and its laws," says Sergei, a middle-aged driver. "Children should be allowed to learn about it now."
Nadezhda, a retired music teacher, says: "I'm an atheist, so I have a neutral opinion on this. I don't see anything bad in it, but there's nothing good, either."
Academic Outcry

In other sectors of Russian society, however, the classes have set off distress signals.
This week, senior members of the Russian Academy of Sciences signed an open letter to President Vladimir Putin expressing concern that the separation between church and state was dissolving under the influence of the Russian Orthodox Church.
The letter, which was published in a handful of national newspapers, lamented the "growing role of clerics in Russian society" and "the church's penetration into all facets of social life."
The signatories included two Nobel laureates, physicists Vitaly Ginzburg and Zhores Alferov.
Ginzburg told RFE/RL that offering classes on Orthodox culture skews the learning process for young students, and insults followers of Russia's other religions, including as many as 20 million Muslims.
"When someone is 15 or 16, then she or he can be taught the history of religion. But why do they need it in elementary school?" Ginzburg asks.
"Russia is a multiethnic, multifaith country, is it not? But they're not taking steps to introduce the basics of Muslim morality; they care only about Orthodoxy. Ten to 20 percent of the pupils in schools may be Tatar. Should they study Orthodox culture too?"
Information, Not Indoctrination?
A number of schools have responded to such concerns by opting to offer an alternative course that examines "world religions," and not only Orthodoxy.
Defendants of the Orthodoxy classes also hasten to add that it is the religion's history and culture that is being offered to students -- not doctrine.
Education and Science Minister Andrei Fursenko in June said doctrine was a matter for "Sunday schools, church schools, and seminaries," and would not be introduced into general education curricula.
And many schools -- like those in Tver Oblast, which will initiate Orthodox culture classes this autumn -- are making the optional coursework be either the first or the last class of the day, in order to minimize inconvenience for those parents who opt to keep their children out of the course.
"Some people don't really have a proper understanding of what this subject will be about," says Lyudmila Gorbacheva, the deputy director of the oblast's Institute of Advanced Teacher Training, which has helped teachers prepare to instruct the Foundations of Orthodox Culture class and recommended study materials and textbooks.
"They probably think it's like Bible study, learning about the Christianization of Rus. But what we're really looking at is the basics of Russian culture -- the architecture and ancient literature associated with Orthodoxy."
Church And State...
But critics worry that even architecture and literature will open the door to creeping clericalization in Russia's schools.
They point to recent assertions by Patriarch Aleksy II, the head of the Russian Orthodox Church, who said it was unacceptable to teach schoolchildren Darwin's theory of evolution.
This week's letter from the academicians also tacitly frowned on Russian President Vladimir Putin's open religious devotion and strong support for the church as further blurring the division between church and state.
They also criticized the growing role of the church in the armed forces, and the growing trend in Orthodox christening of new ships, submarines, and buildings.
"The church wants to have state functions and, generally, to influence the development of society. Priests are in the armed forces now. When a new ship is launched, there's a priest christening it. When there's a new building, there's a priest christening it too.
...Theology And Science
Ginzburg and his fellow signatories also hotly dismissed a proposal that theology be recognized as a science. "One could wonder why on earth theology -- a set of religious dogmas -- should be regarded as a science," the letter read.
It's an argument that Deacon Andrei Kurayev, a professor at the Moscow Theological Academy and a well-known Orthodox theologian, rejects.
"All the universities of Western Europe have theological faculties," Kurayev says. "Theology isn't the study of dreams and apparitions. It's the study of texts. The methodology of theological research is the same as the methodology for any other kind of humanitarian study.
Members of a radical Orthodox movement quickly appealed to the Moscow Prosecutor's Office to open a criminal case against Ginzburg for making remarks that offend Orthodox sensibilities.
Other Orthodox believers, however, find some common cause with the Ginzburg group. "Of course, clericalization is very bad," says Yakov Krotov, an Orthodox priest and a commentator on religion for RFE/RL. "But I believe there is a broader context in which I strongly oppose this letter. The problem is not whether a nuclear submarine should be christened or not... The problem is that there shouldn't be a nuclear submarine at all."
"Our country is wildly militarized," Krotov adds. "The Academy of Sciences, our physics and chemists, 90 percent of all scientists, work for war, and they are only competing for state money so that [scientists], not the church, get that money. That is the root of the problem."
Young Consumers
Beneath the heated rhetoric of the country's academic and religious elite, there is a purely practical question: How will children as young as 6 years old take to lessons about Russian Orthodox history and culture?
Not well, says Krotov, who says the church should openly acknowledge the doctrinal nature of the class and call it "God's Law," the name given to pre-1917 Russian Orthodox religious school courses.
While Krotov sees the advantage of including religion as part of world culture and civilization classes, he says there's a limit to how much school children, especially young ones, can understand or appreciate.
"In elementary school, this should be meted out in minute doses," Krotov says. "Otherwise it will provoke a nauseated reaction and have the opposite effect."
Vladimir, a history graduate student living in Kirov, takes an even more extreme view.
"Children will skip this class, or they'll barely pass it, without understanding much of anything," he says. "If there's another mandatory course, especially such an ideological one, I think it will create a generation of revolutionaries like Stalin, who also studied 'God's Law.'"
(RFE/RL Russian Service correspondents Mikhail Salenkov and Lyubov Chizhov in Moscow, Yevgeny Novikov in Tver, and Yekaterina Luzhnikova in Kirov Oblast contributed to this report.)
A Scientific World View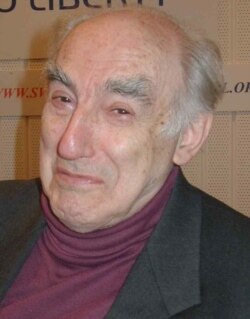 ORGANIZED KNOWLEDGE:
Vitaly Lazarevich Ginzburg is one of Russia's leading scientific minds. A theoretical physicist and astrophysicist, he is a member of the Russian Academy of Sciences, and in 2003 was one of three researchers to receive the Nobel Prize in Physics for pioneering contributions to the theory of superconductors and superfluids. At 90, he is a living witness to the advent of both Soviet atheism and the postcommunist renaissance of organized religion. Ginzburg spoke to RFE/RL correspondent Mikhail Salenkov about what he sees as the fundamental divide between science and religion:
There exist two world views: a scientific, or natural-scientific, view, and a religious view. What is the natural-scientific world view? It is when people study nature and natural phenomena, when they conduct experiments and obtain answers, when they propose hypotheses and test them out, and thus move forward.
This is how science makes advances. And these advances are simply staggering. The successes of science, I think, are well-known to any intelligent person. So, this is the scientific world view.
What about the religious world view? A thousand years ago, when there was no science at all, people, naturally, made up all sorts of fairy tales about a god who ruled over all, and so on. That found a vivid expression in the Bible.
By the way, let there be no misunderstanding, the Bible is a valuable work of art and history, but there is certainly no truth in it. What does the Bible claim? That God created the world and, in particular, created humans in their present shape. But science affirms that it is simply nonsense.
Anthropology shows clearly how humans evolved. It is said that humans descended from apes. But those are just words. In reality, there was a common ancestor, and there is a huge difference. And they say that it all happened at once. Clearly, this has nothing to do with reality.
And so the school -- the secondary school -- is the fundamental institution where education takes place. We are not against religion, not at all. If you want to be religious, please do, but science cannot agree with it.
Compulsory secondary education must graduate educated people. To graduate a troglodyte who thinks he was made at one stroke is ludicrous.